Cruising
A long-term sailor's tips for successful cruising
An alternative route to the traditional circumnavigation
Corneille wrote "that for souls nobly born, valor doesn't await the passing of years", and the voyages of Jean-François Raymond brilliantly demonstrate that age has nothing to with ambition and that you need to look elsewhere for motivation… or alibis. Aged 65, the owner of Rose Noire gave in to an irrepressible desire to go cruising under sail. Two Atlantic circuits, then a trip round the Pacific took his Outremer 55 Light from the Mediterranean to Polynesia and then on to Alaska. Partly carried out in the company of the cruising family on board the Freydis 46-50 Grainedo, this amazing 3rd voyage, after two Atlantic circuits offers a neat alternative to the traditional circumnavigation.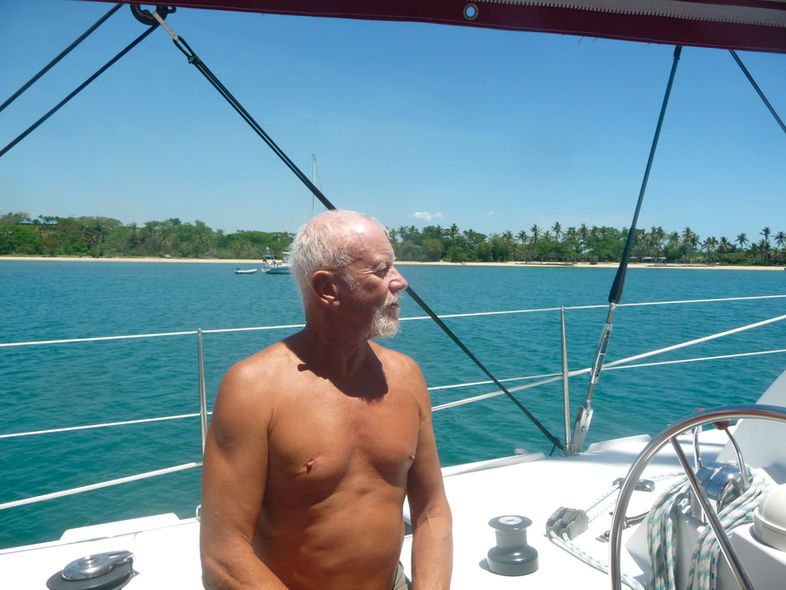 Two Atlantic circuits prior to the big journey to the Pacific
The story of this third voyage is one of a 42,000 mile trip led with passion, wisdom and skill… in short: effectively! Jean-François ordered his boat in April of 2005, and Outremer delivered his 55 Light one year later. From May through July 2006, the happy owner completed fitting out the interior, and then had a shakedown sail for a couple of weeks in August to check everything was working properly. September and October saw the finishing touches, and then he set off for an Atlantic circuit via the Canaries, the West indies, Bahamas and Azores, returning to Sète in the South of France on June 18th 2007. One year later, Jean-François set off from Sète again for another Atlantic tour of the same duration. This was followed by much cruising in the Mediterranean between Corsica, Sardinia, Tunisia and the Balearics… In total from 2006 to 2011, Rose Noire covered 28,605 nautical miles.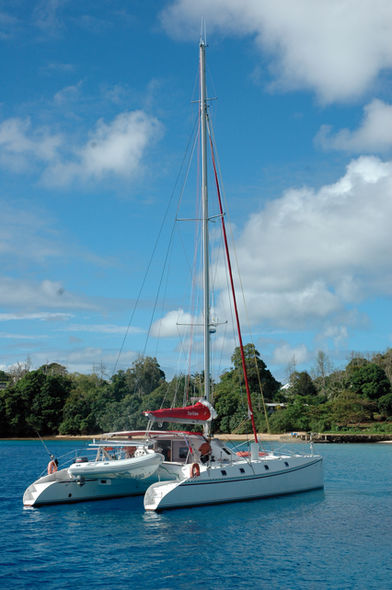 Why go round the world?
Jean-François set off again in 2011 for an atypical voyage from the Mediterranean shores of France to the Pacific, sailing via Las Palmas, Martinique, Cuba, the San Blas islands and finally Panama. The journey lasted from November 7th 2011 to April 10th 2012. He traced a route across the Pacific from the Las Perlas islands to the Marquesas, the Tuamotus, Tahiti, Suwarrow, Tonga, Fiji, and reached New Zealand in early November 2013. After over-wintering at Whangarei (NZ) and five months back home in France for the skipper, Rose Noire set off again in April 2014 for the Austral Islands, the Tuamotus and the Marquesas, before deciding to team up with Grainedo as buddy-boat to return via Hawaii and make Alaska by late June. The two catamarans sailed together as far up as 59°02'N, before turning down to San Francisco, then to the Sea of Cortez via Los Angeles, San Diego and Mexico. Next Rose Noire sailed to Costa Rica with two stops in Mexico, before re-transiting the Panama Canal on February 20th 2015. Returning to Cuba via the Colombian islands of San Andrès and Providencia, he then set a course for the ...
Become a member
Become a Multihulls World Community Member for free and get exclusive benefits
Become a member
What readers think
Tell us your opinion