The latest addition to the Balance Catamarans range, the 482 is a multihull that combines performance and ease of use. Two adjectives that may seem contradictory, but thanks to the talent of the design team, they make sense. We had the chance to test this catamaran in the Chesapeake Bay, off the coast of Annapolis, with its relaxing simplicity.
Test location: Annapolis (Maryland - USA)
Conditions: 10 knots northeast wind, 3 people on board, slight chop
The Balance Catamarans brand is slowly approaching its 10th anniversary and now has seven models ranging from 44 to 76 feet, all with a common philosophy: to offer a unique experience at sea by providing maximum comfort and versatility while producing high-performance multihulls that remain easy to handle for a couple. In short, a sailor's catamaran designed by real sailors and not only by 3D design software. It has to be said that Balance is the brainchild of some very talented people. The owner of the brand, Phil Berman, is a former Hobie Cat world champion, a renowned racer and even the author of a few reference books in the catamaran field. He has also sold numerous catamaran brands for several years, notably French models. To design the 482, Phil joined forces with Anton du Toit, a South African naval architect who is also widely recognized. Finally, for the manufacturing, they worked with veteran catamaran builder, Mark Delany, who runs Balance Catamarans in Cape Town, and also builds the Balance 442, Balance 750 and custom Balance Catamarans over 62 foot.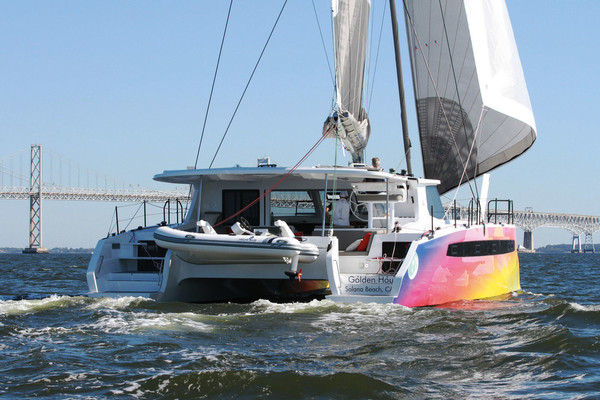 With its screecher of nearly 785 sq ft (73 m2), the 482 is able to sail as fast as the wind when it's blowing at 10 k...
To read in full,
Buy the boat test
Boat Test price$5.00Inc. tax
Purchase
What readers think
Post a comment
---