At the latest Grand Pavois in La Rochelle, at a press conference for the launch of the Greenland 34, Jean-François Fountaine, CEO of the shipyard that bears his name, informed us of the future projects jealously concocted for the year 2000, including a new 43' catamaran, replacing the Venezia 42. Now it's spring 2000… two units of this new model have already come out of the workshops in Charente, France. Venezia 42 is dead. Long live Belize 43!
Preamble:
The range of Fountaine-Pajot catamarans had, except for a few modifications in interior design, changed very little lately. Priority was on setting up the range of trawlers. Launched in 1992, Venezia 42 will remain the pioneer of the make's characteristic "look". With 123 units built, this middle-of-the-range illustrates the true success of this shipyard, based in La Rochelle. Her replacement obviously had to retain the main principles: the classic 4 double cabins with the possibility of a suite in the hulls, in the owner's version, the convivial saloon integrating on the same level the galley and chart table, but it also reserves new attractive assets in more ways than one.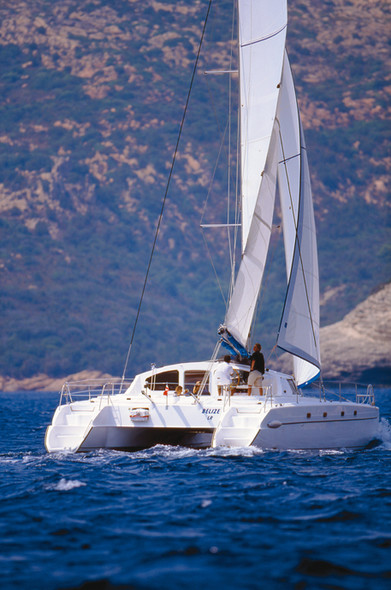 Presentation
Discovering the Belize 43, as she quietly awaits her new crew, the family spirit is very much present. Her silhouette is striking, however, with its "tenser", slimmer, "firmer" forms. Olivier Flahaut, who designed her, has been able to make her line remarkably more dynamic, reduce the effect of mass...
To read in full,
Buy the boat test
Boat Test price$5.00Inc. tax
Purchase
What readers think
Post a comment
---