The Belize was launched in 2000, as a successor to the placid Vénézia 42, and can be distinguished from its predecessor by its more modern design and ergonomics as well as its improved performance; 130 boats have been built. The Maestro is the owner's version and its success gave us the chance to have another look at this boat, in a version which is most definitely oriented towards blue-water cruising and living aboard.
GENERAL PRESENTATION
The Belize has changed very little since its launch, which gives much credibility to the original choices made and is evidence of the builder's experience. This 43' catamaran seems to possess all the necessary attributes to ensure a long production run and to become one of Aigrefeuille's leading models. The Belize is not a performance boat, but its versatility appeals to charterers and allows it to adapt perfectly to family blue-water cruising! The Maestro version is a development which is comfortable, efficient and really adapted to long ocean voyages. Its also has surprising sea-keeping qualities!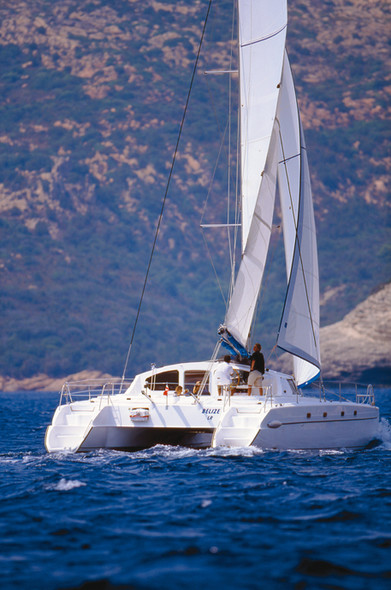 SILHOUETTE
From a side view, the Belize is very appealing and represents a good solution to the difficult problem of proportions: the quite short nacelle is well integrated into the overall lines and the cabin roof means that the boom can be relatively low; the upright bows, moderate freeboard and transom profiles reinforce this positive impression, but the rubbing strake and the builder's nameplate are a bit too predominant. A customising kit for the hulls, with colo...
To read in full,
Buy the boat test
Boat Test price$5.00Inc. tax
Purchase
What readers think
Post a comment
---