Following on from the C-Cat 37, a compact catamaran that was unanimously acknowledged to be very successful, the Italian builder is now launching a much more ambitious 48-foot model. Performance and comfort are the order of the day: we're now in the realms of Outremer, Catana, Balance, HH, Seawind or Ita. These are all cruising multihulls that uphold the pleasure of sailing... on all points of sail, thanks to their daggerboards!
Test location: Fiumiccino (Ouest de Rome)
Conditions: 5 to 18 knots of wind - Calm to moderate sea state
An existing boatbuilder freshly converted to multihulls
Comar has been an internationally known brand since 1971: the shipyard based at Fiumiccino shipyard, west of Rome, on the banks of the Tiber, has produced thousands of great monohulls, with a range from 21 to 100 feet. Collaborations with the Finot Group for the Comet 11-13- 14 or Valiccelli series proved very successful. The Genesis 43 and the Phoenix 50 also won many fans, and the reputation for quality of Comar boats was established. However, the shipyard experienced difficulties during the crisis of the 1990s. In 1998, when Massimo Guardigli took over Comar, things started to look up for the yard, they began offering a range of custom-built monohulls alongside their production boats of recognized quality, such as the Comet 38, 50 and 65 – all Bruce Farr designs. The C51 Sport, an aggressive cruiser-racer, has seen great success on the race course. But as the monohull market became more and more competitive and the demand for multihulls grew, Massimo and his team decided to reorient the entire shipyard towards a new brand: C-Catamarans.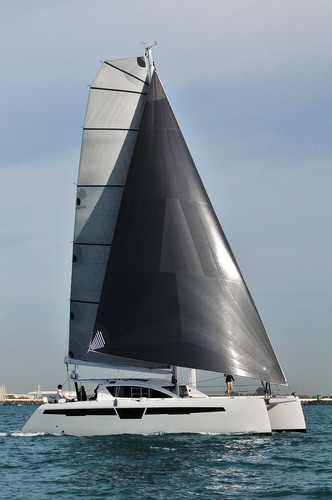 The sail plan is pretty sleek (a 65-foot mast on 48-foot hulls). No need to over-...
To read in full,
Buy the boat test
Boat Test price$5.00Inc. tax
Purchase
What readers think
Post a comment
---