Fountaine Pajot's new 58' catamaran will be unveiled at the forthcoming Cannes Yachting Festival. For the first time, the La Rochelle yard are fitting a flybridge to a sub-58' model. We made the most of nice windy day in June to check out this big cat around the islands of the Charente on the French west coast.
A constantly-evolving flagship range
In September 2013, the appearance of the Victoria at the La Rochelle Boat Show marked a turning point for Fountaine Pajot. Passing the point of no return, the 67 footer sported a flybridge! This "flying deck" of motor yacht origins had, until then, represented a line which the La Rochelle-based builder was not going to cross. This caveat was based on the convictions of Jean-François Fountaine, who believed that an irreverent crows-nest had no place on catamaran, especially one under 65'. The appearance of the Victoria raised eyebrows among FP fans over this "trendy" comfort feature. In comparison, this likely depreciated the Sanya. After an honorable career, with 30 examples built, the Sanya (see review in Multihulls World No. 123) has struck her ensign and given way to a successor for this worthy position.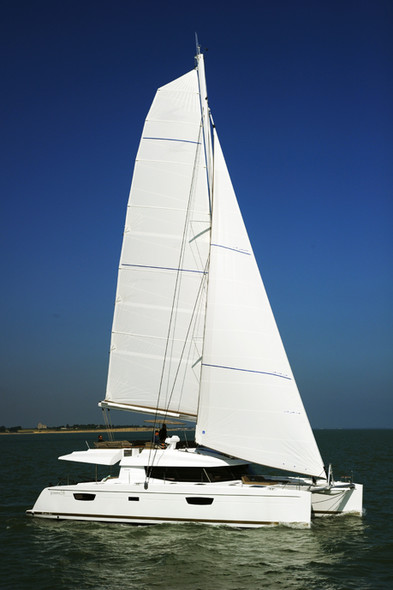 Architecture and construction
The Ipanema is based on the Sanya's lines on the water, but is a new boat which is very different from its predecessor. It shares the same construction ...
To read in full,
Buy the boat test
Boat Test price$5.00Inc. tax
Purchase
What readers think
Post a comment
---