Not content with offering the first production hybrid propulsion system in the world, the Lagoon 420 is also a catamaran which is incredibly easy to get on with. This successor to the 410 in the range, with its 'pumped up' accommodation, offers incredible and unusual liveability for a 42-foot catamaran…
The battle for space
The Quai de Brazza team have taken a gamble: that of meeting the expectations of a new multihull-loving clientele, wider and different from the niche of enthusiasts. The 420 marks the end of the long, slim hulls, demanding aerodynamics, narrow cabin roofs, spartan living conditions, power and speed, and welcomes in comfort, ease of manoeuvring, and above all fabulous living spaces. The 420 no longer flatters sporting fantasies and offers hedonists a comfortable cruising boat with no concessions to performance. It does away with two engines out of three and retains a sturdy generator, responsible for diesel-electric propulsion and production of abundant energy for this very welcoming platform. The sail plan illustrates the same philosophy: taking advantage of the wind, from a close to a broad reach, neglecting the sacrifices imposed by sailing close hauled or in a flat calm, which few people appreciate.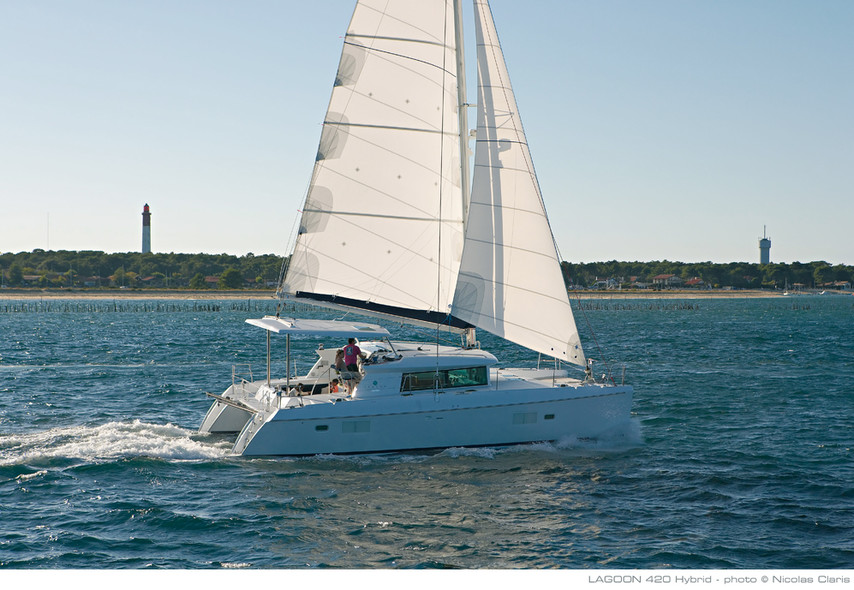 An architecture with no half measures.
When Matra offered the concept of the Espace model to Renault, the in-house culture, ...
To read in full,
Buy the boat test
Boat Test price$5.00Inc. tax
Purchase
What readers think
Post a comment
---