Take the flying bridge, which is an innovation on any boat less than 45 ft long. Add a 'gull's wing' shape to the underside of the bridge deck. Mix in enough volume for really comfortable accommodation, a different way of arranging the external living space and decent performance for a cruising boat, and you have the Lagoon 440, a revolution in the small world of cruising multihulls.
Right from the start, the Lagoon 440's lines struck a familiar chord. The general shape of the hulls and superstructure reminded me of something that I could not quite put my finger on. The 440 undeniably resembles the other boats in the Lagoon range, but there was something else… I was thinking about what it was when a 'Lagoon Power' pulled in to tie up behind, and I could see the resemblance straight away. Certainly, the 440's bows are less flared than on the 'Power', and it is above all the cabin roof which is similar, but it probably owes more to the motor boat than to previous sailing boats in the range. When I first discovered the Lagoon Power 43 with its gigantic aft cabin, I commented that the day would come when the accommodation on sailing catamarans would also be fitted out as a 'suite'; the 440 is not quite there yet, but one day…..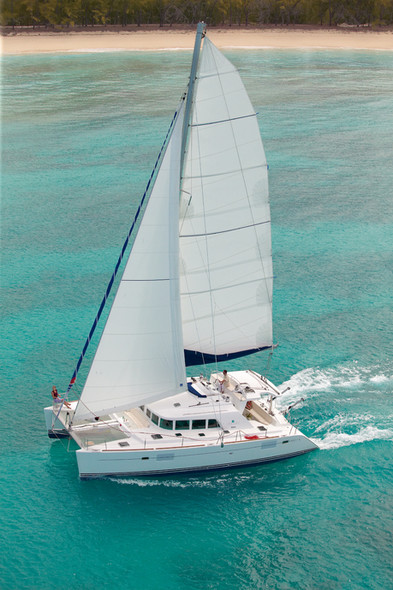 This is probably due to the flying bridge, as the helm is on top of the cabin roof, with access via steps either side. Seen from forward, the considerable volume of the hulls hints at the amoun...
To read in full,
Buy the boat test
Boat Test price$5.00Inc. tax
Purchase
What readers think
Post a comment
---