Despite their real commercial success in the West Indies and the USA, Leopard catamarans, from the South African boatyard, Robertson and Caine, are not very well known in Europe. With its new 40 footer, 'the other multihull country' has associated itself with a heavyweight partner (Moorings) to get a foothold in a sector which many builders were beginning to neglect. To ensure success, the two associates went to talk to a design team with a reputation, Gino Morrelli and Pete Melvin.
THE CONCEPT
Lex Raas, the new director of Moorings, believes in the development of multihulls and since 1995, close relations with Robertson and Caine have been created. The world leader in the bare boat charter market has applied the same formula that made it so successful with Beneteau to the catamarans: improved specification, careful siting of bases, service quality, fleet reliability. Moorings enjoys an exclusive contract with the Durban-based boatyard and now has a complete range. The 43' and 47' account for the major part of the production, the 62' less, because of its size. The 40 footer's mission thus seems to be to penetrate the European owners' market with a similar argument and to attract other categories of buyer-manager whilst offering charterers an easy, cheaper boat!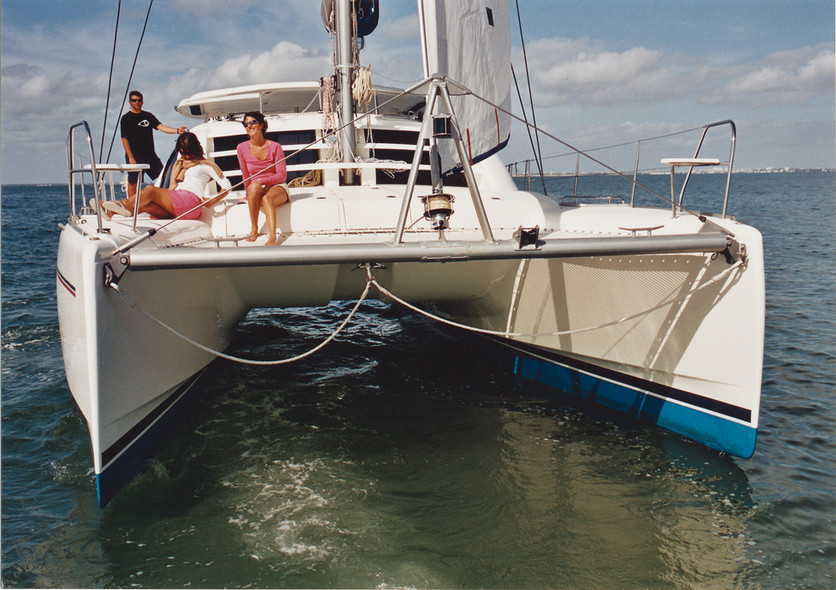 ARCHITECTURE
The other models in the Leopard range were designed by Alex Simonis and certain of their characteristics (low nacelles, high wetted surface) do not go well with the philosophy of the younger aficionados who want to sail a livelier multihull. Gino Morrelli and Pete Melvin were t...
To read in full,
Buy the boat test
Boat Test price$5.00Inc. tax
Purchase
What readers think
Post a comment
---