It's a sign of the times - the 40 foot sector is starting to see some enthusiastic reinvestment by the majority of the builders. They are now taking turns at presenting their new models. The Leopard 40 was first shown at Miami in February 2015, and was then presented to European fans at the International Multihull Show at La Grande Motte, France, in April. We made the most of a nice windy day for a test sail off the coast at Nice.
A 40 footer with a long history
From 1988 through 1996, the Robertson and Caine yard built some pretty big boats (60 to 72') aimed at offshore racing and fast cruising. They were mostly monohulls, but there were also a few 40' catamarans. This core activity was then abandoned in favor of a complete catamaran range (38', 42', 45' and 47') designed by Simonis-Voogd and built largely for the Moorings charter company. In 2002 the new 40 was designed by Gino Morelli and presented in Europe under the name of the Moorings 4000. It remained in production until 2005. Next came the Leopard 38 (up to 2009) and the 39 (up to 2014), with the only difference being the design of the bimini.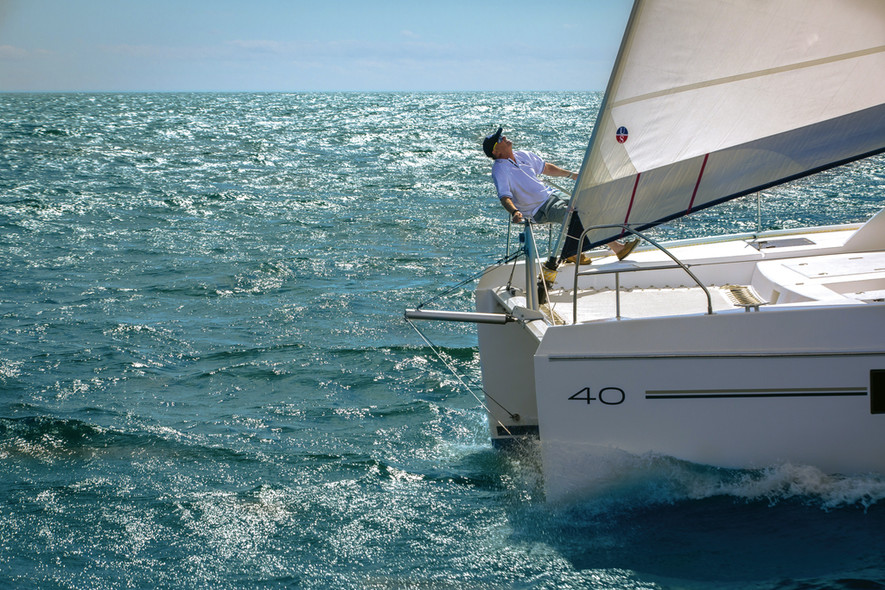 The 2015 version of the Leopard 40
The launch of this new 12 meter catamaran completes the overhaul of the range, which today covers the 40', 44', 48' and 52' sizes for the sailboats, and the 43PC and 51PC for the powercats. They are all Simonis-Voogd designs. When we tested the 51PC (Multihulls Wor...
To read in full,
Buy the boat test
Boat Test price$5.00Inc. tax
Purchase
What readers think
Post a comment
---