The Multihulls World team of testers has dreamt of this for a long time… To be able to carry out extended tests under real cruising conditions, with a boat which is ready to go, all tanks full, loaded with fuel, possessions and a full crew: the boat as you would really use it! Here, then is the 'detailed' test of the Léopard 43 in its Moorings 4300 version…
A well-defined programme.
At the origin of the Léopard range, are a large South African builder with a good knowledge of multihulls (Robertson & Caine) and the specialist in bare-boat charter, The Moorings. For about ten years now this charter company has understood that a catamaran is the ultimate boat for family cruising in the warm waters of the West Indies, the Pacific or the Indian Oceans. Moorings specifications for their idea of what a cruising catamaran should be were therefore very precise: excellent liveability, comfort at anchor, low maintenance and ease of handling under sail… The Léopard 43 is the development of the Léopard 42, designed by Alex Simonis and Voegd Design. It is offered by the builder in an owner's or Léopard version as well as a charter version, under the name Moorings 4300. The boat we were offered for five days in the West Indies was the latter version…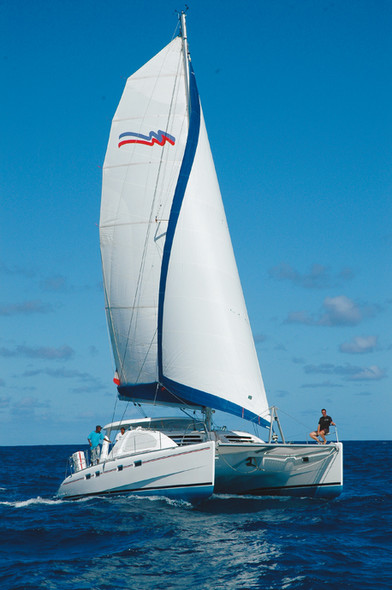 An extended test
We took possession of our catamaran in the Oyster Pond marina, on the French part of Saint Martin, in the West Indies. It was number 18 in the series, registered at Nice in ...
To read in full,
Buy the boat test
Boat Test price$5.00Inc. tax
Purchase
What readers think
Post a comment
---