Despite the constant growth in the average size of cruising catamarans, Fountaine Pajot has always kept some small, 'family' models amongst their range: the Louisiane created the trend in France, then it was succeeded by the Maldives, the Antigua and the Tobago. The 'archipelago' of reasonably-sized boats is now enlarged with the Mahé 36'. We took advantage of the launch of one of the first models delivered in the Mediterranean for a 100-mile test.
Presentation, silhouette
The exercise wasn't simple: the 'new addition' had to fit into a stylistic harmony coherent with the brand label; must not to be left behind in the 'interior space race', whilst remaining safe and seaworthy! The challenge was taken up by a multidisciplinary team: Olivier Flahaut for the design, Michel Joubert and Bernard Nivelt for the chassis and the underwater lines. The Mahé's silhouette is pleasing and the proportions are well-balanced; the clever design of the windscreen and the hull portholes reduces the perception of the height of both the cabin roof and the freeboard. This catamaran has a pleasant, determined look.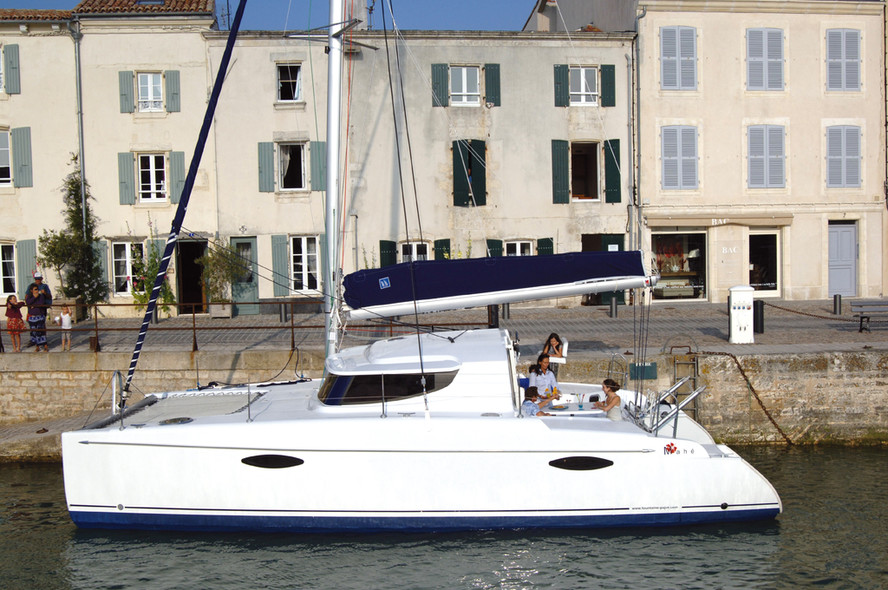 Construction-architecture
Industrial construction methods are now used intensively at Fountaine Pajot. Thus the Mahé advances along a single assembly line, which includes: the plastic phase, the fitting of the accommodation, and that of the deck. The chassis is built using lamination by infusion, the cabin roof by injection. The build quality is good, but is still made up of numerous added modules; the assembly of certain of them could be more carefull...
To read in full,
Buy the boat test
Boat Test price$5.00Inc. tax
Purchase
What readers think
Post a comment