Given the boom of the RIB market and inflatable paddleboards too, it's no wonder that small catamarans are also taking a look at the formula. The big leader in this niche, MiniCat will soon be celebrating its 15th birthday and... 2,000 catamarans produced! We tried out the most popular model from the Czech manufacturer, the MiniCat 420.
Some large multihulls with clear space on the bimini have been known to carry a pair of Optimist sailing dinghies on the top - although the windage would be substantial and stowing as well as launching wouldn't be an obvious task. Surely, it'd be simpler to take a small sailboat that fits in two bags? And why opt for a small monohull capable of capsizing in the first puff of breeze when you are a multihull enthusiast? MiniCat - or rather its founder, the Czech Martin Horak - became interested in the idea of an inflatable catamaran 14 years ago. His goal was to offer a real sailing boat, easy to assemble and transportable in simple bags. The MiniCat can be easily stowed on board, but also in your car. You can therefore be the owner of a catamaran that slips under your bed! The range starts with the 10 feet (3 m) Guppy and extends up to 15 feet (4.60 m).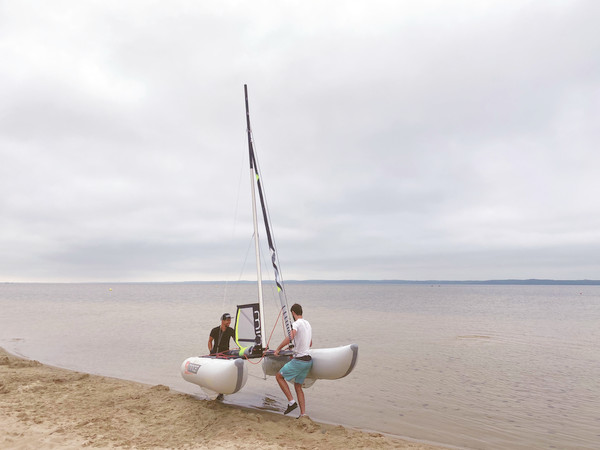 112 lbs (51 kg) all up: the 420 can easily be carried by two people. You can pull it on the sand on your own.
It fits in two bags!
The MiniCat 420 fits in two bags of 5'9"x12"x12" (175 x 30 x 30 cm) - they are designed to fit in a standard car by folding just one seat. Each bag weighs just over 50 lb (25 kg). Optionally, they c...
To read in full,
Buy the boat test
Boat Test price$5.00Inc. tax
Purchase
What readers think
Post a comment
---