Known as a specialist in smaller sailing dinghies, British manufacturer RS Sailing has recently launched a range of light catamarans aimed at sailing school or family use. For the moment, there are two models. Nicolas Honor, the brand's importer in France, gave us a demonstration of the smaller (and most recent) of the two, the RS Cat 14, in its XL version.
Test location: Saint-Pierre-Quiberon, France
Conditions: Westerly wind of 10 to 15 knots, sea state slight
---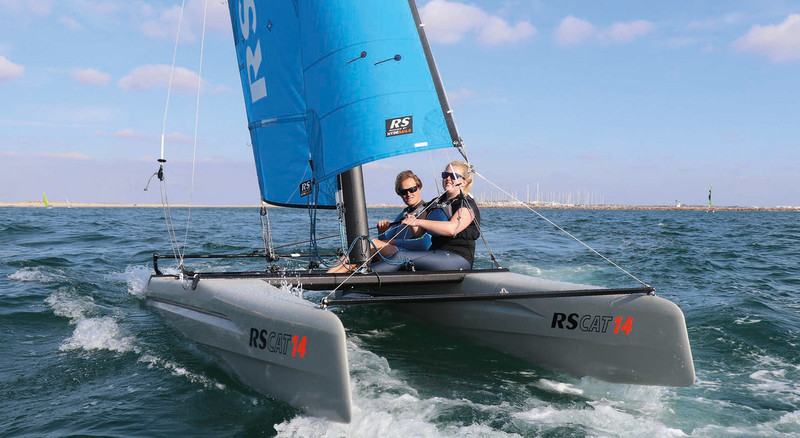 With the volume of its hulls, the RS Cat 14 can easily carry two crew members, or even three or four as the maximum weight is 790 lbs (360 kg).
Though RS Sailing's catamaran range is currently limited to the RS Cat 16 and 14, these two models have clearly managed to establish themselves as one of the players in the sports multihull business; this manufacturer who traditionally specialized in sailing dinghies has simply applied the rules that have made their monohull models so successful – build quality, attractive design, competitive prices. In fact, RS Sailing has been able to convince many sailing clubs to build an RS Cat fleet. The 16 is perfectly suited for two adults, while the 14, and this is the one we're taking a look at today, is more suited to children. However, the RS Cat 14 has significant volume, as it is able to support a crew totaling 790 lbs (360 kg). Compared that to the maximum load of 350 lbs (160 kg) for a Hobie Cat 14. While we're on the subject of comparisons, we can note here the heritage of the Dart 16 as for the anti-leeway plan: the undersid...
To read in full,
Buy the boat test
Boat Test price$5.00Inc. tax
Purchase
What readers think
Post a comment
---