Built in fewer than 100 units through the 1990s, the Tobago 35 didn't see the wider distribution of the models in the following decade. But that doesn't prevent this compact catamaran from being an excellent opportunity for those with smaller budgets.
Late 1980s: cruising catamarans are just beginning to make a place for themselves in the sun... Fountaine Pajot is one of the first builders to bet on two hulls rather than one: the success of their Venezia 42 gave them good reason. JeanFrançois Fountaine decided to create a complete range around his flagship model: the Marquises 56 for luxury charter and the Tobago 35 as her little sister. The distinctive features are the "cap" at the front of the coachroof, which is very useful for protecting the saloon from the sun's most vertical rays, and the stubby bows. The 35 retains the same design style, with great curves.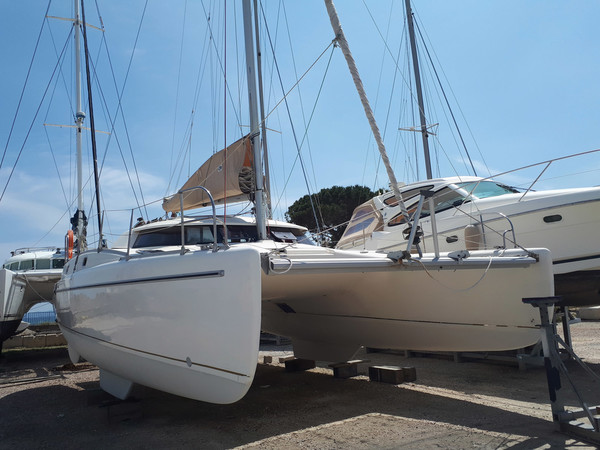 She's got potential, but not upwind!
Light and well-canvassed, the Tobago 35 is undeniably a fast boat: she's quickly capable of reaching 10 knots, without forcing as long as there's a breeze. With 20 knots of wind on the beam, the polars promise 9 knots of boatspeed, and well over 10 knots if a downwind sail is set. A square-topped mainsail, gennaker and folding propellers will even make this model a very powerful and exciting machine to sail. On the other hand, although her very short skegs allow her to be used for almost all kinds of fantasies when approachin...
To read in full,
Buy the boat test
Boat Test price$3.00Inc. tax
Purchase
What readers think
Post a comment
---