Specialist in solar-powered electric boats, Sun Concept offers a 40-foot (12-meter) catamaran in several versions - MT, Pro and Cruise. It was the latter of these three, designed for coastal cruising, that we tested in southern Portugal.
Test location: Vilamoura, Portugal
Conditions: South-southwest 5 to 8 knots, sea state slight
---
It's not for nothing that Sun Concept settled five years ago in Olhão: this fishing town, very close to Faro, is located in the heart of a particularly vulnerable ecosystem: a succession of lagoons, sand banks and muddy plains stretch over 30 miles (50 km). Here, the professionals - fishermen, fish farmers, oyster farmers, shuttle boat pilots, water-taxis - are numerous and sensitive to the preservation of their environment. Close to their concerns but also to their requirements in terms of specifications, Sun Concept launched its first 23-foot (7 m) electric boat, the Sunsailer 7.0. This model, with around 10 units built, was a relative success. And it seemed to be suitable for both professionals and yachtsmen. Following this, the Sun Concept team have been working on a new, more ambitious project, the Cat 12.0. Still a zero-emissions boat, of course, but it is now a catamaran. This configuration brings two decisive advantages: less drag for the same displacement and the possibility of optimizing the surface area for solar panels.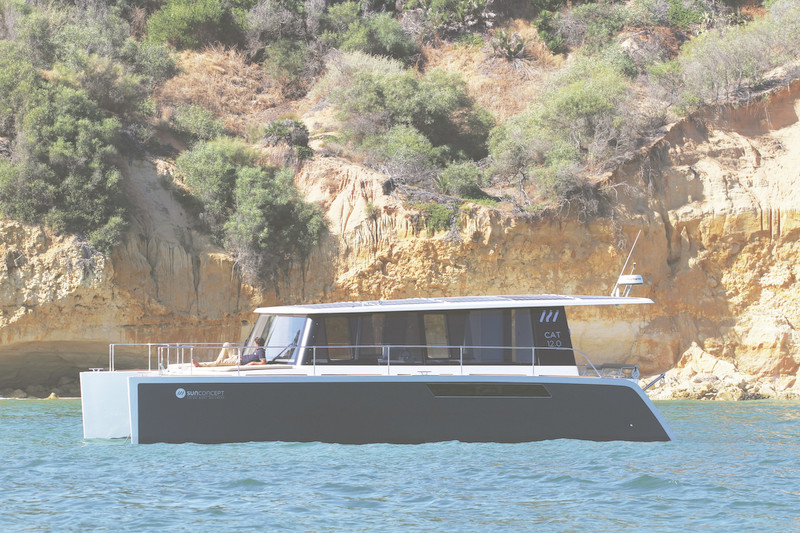 Sailing without polluting? Yes you can, with a Cat ...
To read in full,
Buy the boat test
Boat Test price$5.00Inc. tax
Purchase
What readers think
Post a comment