Presented at this year's Miami Boat Show, the HammerCat 35 is the first model from this new brand. Designed for fishing and daysailing, she is very good on the open sea. A real adventurer's boat!
Test location: Miami, Florida, USA
Conditions: Wind – easterly 10 knots; Sea state - slight
---
While highly-powered Open Fishing models are legion on the market - particularly in the United States – very few adopt a catamaran hull. But this is where Hammer Yachts are placing their bets. The general size remains very close to a standard Open Fishing model, with a beam of 11'10" (3.60 m) and length of 34'1" (10.40 m). On the other hand, the almost rectangular foredeck works well between the two sharp bows creating a very marked central tunnel, sculpted in a gullwing shape. This architectural work is the fruit of collaboration between Schionning Naval Architects, the South African builder Uwe Jaspersen from Carbo Tech, and the American Peter Wiersema, formerly at Leopard. The builder opted for foam/epoxy sandwich construction and carbon reinforcements to achieve a hull that is particularly stiff and resistant to impacting the sea at high speeds. The use of these top-of-the-range materials also guarantees a lightweight hull – 8,800 lbs (4,000 kg) fully laden but only 3,300 lbs (1,500 kg) without fuel, water, engines and crew.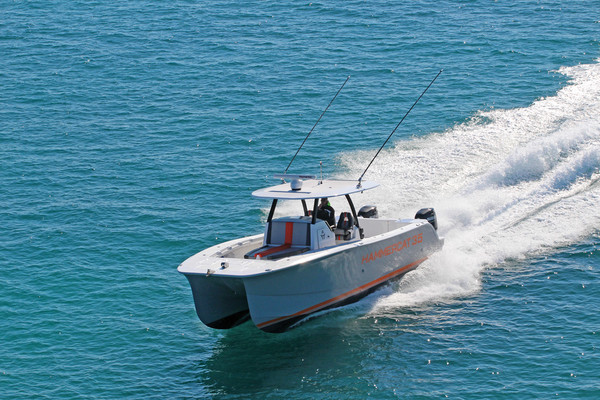 The HammerCat 35 is characterized by her two thin hulls,...
To read in full,
Buy the boat test
Boat Test price$5.00Inc. tax
Purchase
What readers think
Post a comment
---