Test report price$5.00
Buy now
A few creative minds with great seafaring experience have been looking for alternatives to the "inflatable dinghy/outboard motor" combo that has become the norm. We had the chance to try out the prototype of the MiniCat Light Electric developed by Maxence Valdelièvre (formerly of Tenderlift) and Enzo Erouard, a trainee engineer at V Yacht.
Since the famous "Bardiaux" tenders in folding canvas, designed by the ineffable Marcel Bardiaux in the 1950s, a lot of water has passed under our bridgedecks. Inflatable boats have conquered the market - Alain Bombard and the manufacturer Zodiac had something to do with it. As for outboard motors, the renowned British Seagull was retired to the boat jumbles, being quickly replaced by a constellation of American 2-stroke engines, themselves driven off the scene by Japanese 4-stroke engines. The price of such a set-up has continued to rise, fueling a profitable combined market, but a distressing one for the countless skippers who have had to buy one. These boats provide obvious services despite a certain greed for power, high cost and relative fragility. The comfort of our multihulls and the high price of a marina slip motivate us to favor anchoring out - and therefore to use our tender even more. But most catamarans and trimarans are equipped with suitable davits - so a rigid dinghy isn't out of the question... As for adopting more than one hull, well for us it's kind of obvious, isn't it?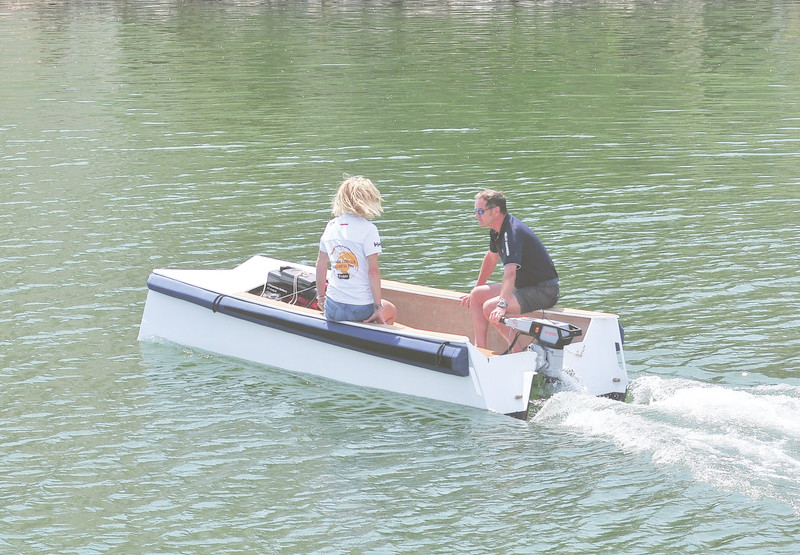 Design and manufacture of an innovative catamaran tender
Maxence Valdelièvre is a nav...
To read in full,
buy the test report
Test report price$5.00
Buy now
What readers think
Tell us your opinion