First seen back in September at the Cannes Yachting Festival, this electric trimaran intended for day cruising appeared in stark contrast to all the other boats on display. The concept of the Orphie 29 goes back to the fundamentals of sailing, which promise fun and relaxation on the water with optimal respect for the environment. Obviously, we wanted to know more…
---
Test location: Cannes, France
Conditions: 4 to 8 knots of wind, light chop
One section of the Cannes Yachting Festival was dedicated to hybrid or 100% electric boats under ten meters (33 feet) in length. A good twenty models were on display at the end of the central dock, and this was where we discovered the Orphie 29. This small multihull of a new kind is very beamy and sits low on the water. It looks like a racing boat with very tapered hulls, but without a mast. The center hull looks like a motor cruiser dayboat with a beautiful hardtop-covered cockpit and a very narrow bow extending with a streamlined windshield. All decks are teak-coated and surrounded by a rub-rail in varnished mahogany, giving the air of a vintage motorboat. The sterns of the floats are equipped with sugarscoops, and the transom of the central hull supports a Torqeedo outboard motor. In short, the Orphie 29 looks like nothing you've ever seen before!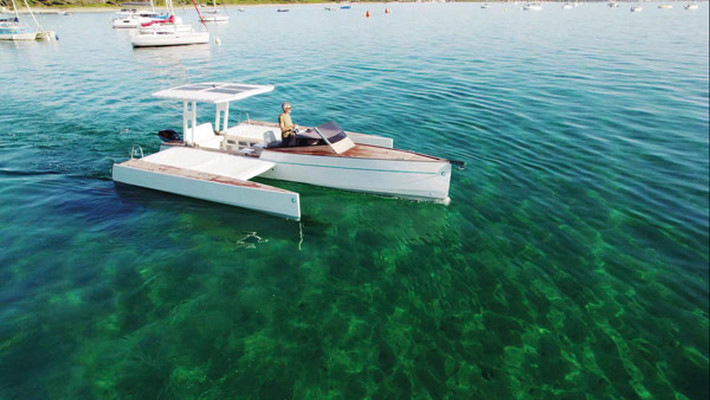 The Orphie 29 moves silently across the water with no CO2 emissions thanks to its electric drivetrain. 
A different approach to our behavior on the water
The two partners in the project, Cyril Ambrozy and Yann Herriot, are passionate about the sea, sailing and gliding across the water. Their objective is to let people to d...
To read in full,
Buy the boat test
Boat Test price$5.00Inc. tax
Purchase
What readers think
Post a comment
---