Start-up company Neocean has developed a small catamaran with an electric motor capable of flying above the waves. With a simple throttle control, and cleanly - with no C02 emissions. We had the chance to try the first version of the Overboat on the Étang de Thau lagoon in the South of France. Ready for take-off!
« Today, you're going to be flying on the water!" says Vincent Dufour, the founder of the young company Neocean. I admit that when he tells me that it will be without C02 emissions, a flutter sets in, a brief moment of perplexity... Of course, I had already had the opportunity to fly without polluting, but it was with the help of wind power and on board a craft that involved a very steep learning curve. Without sails, the power/weight ratio available with what exists on the electric motor market seemed to me – in theory - insufficient to enable a boat of this size to take off. Our appointment was made for that same morning, so I would quickly be sure. Before leaving on the water, Vincent introduced me to his colleagues - a dozen engineers, mechanical and robotics experts in electric motorization and hydrodynamics. Some of them come from the University of Montpelier, with which Vincent has previously founded a research project.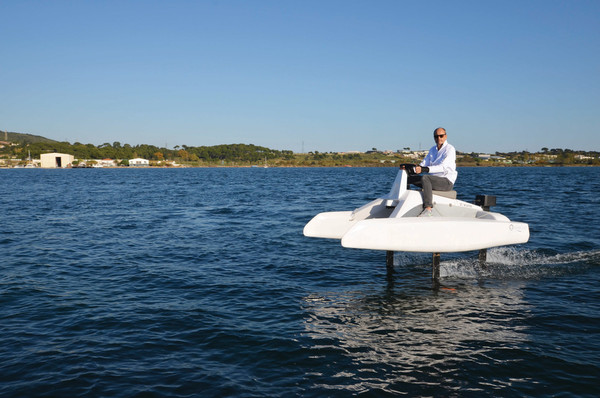 Naviguer en silence, sans émission de C02 et au-dessus de l'eau : une vraie révolution !
This young and friendly team is based in the same hangar is home to Switch catamarans, at Balaruc-lesBains. The dynamic and bustling atmosphere smells like a start-u...
To read in full,
Buy the boat test
Boat Test price$5.00Inc. tax
Purchase
What readers think
Post a comment
---