Published on 01 october 2001 at 0h00
Dear sailing friends, don't turn the page on this motorboat test, on the contrary... It is really made for you! Forget the boat's price and throw your sack onboard: I am inviting you to an exceptional test, of the SANTORINI 65. It will satisfy all your expectations with its exemplary silence, motion and seaworthiness.
This ocean-going catamaran intended to sail round the world on the southernmost latitudes assembles around its concept some of the most powerful dreams yachtspersons can have. There is something of KARABOUDJIAN in this multihull, and Captain Troy could make an appearance at any time to transform your travel dreams into an expedition. Yet if you want to look for a truer ancestry for this boat, it's unquestionably to Marin Marie that we must turn. The legendary captain would likely have clapped his hands on the strand of his island of Chausey on seeing the worthy heir for his ARIELLE moored in the Sound. We can also think of Joshua Slocum who fought his way through the channels of Magellan or the unlikely Marcel Bardiaux dreaming in these same waters of the construction of his INOX. SANTORINI is not a sailboat, but it has a sailboat's qualities: silent surfs, total autonomy. She is not a yacht, since she is simple and rational, not yet a big ship, yet her agenda's limits are only her skipper's. My personal feeling is that this fine vessel is one of the most fantastic dream machines for traveling you could ever imagine!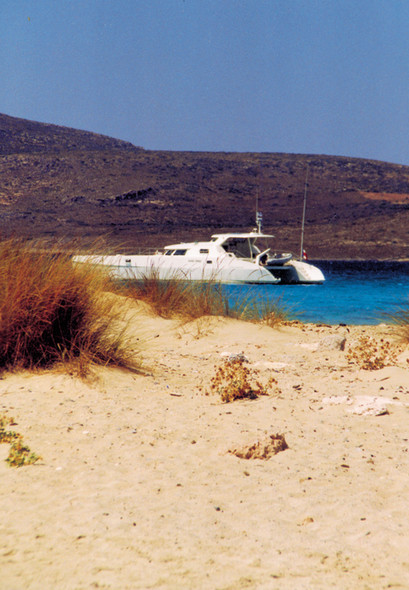 To read in full,
buy the test report
What readers think
Tell us your opinion