Small trimarans are aimed at lovers of fast, sporty cruising; there are more and more of them, and so much the better. The Bandit 800 is built at Carhaix-Plouguer, the capital of central Brittany, better known for the 'Vielles Charrues' festival than its boatyards!
The first bandit 800 was presented in 2006, at the Grand Pavois in La Rochelle. We took advantage of a delivery trip from Belle Ile en Mer to Bénodet to test the number two of the series, a cruiser/racer. I might as well say right from the start: we had great fun! The boat was waiting quietly for me, moored in the outer harbour at Le Palais. Once aboard, we unfolded the arms, as the Bandit folds to fit into a normal berth and can be dismantled for transporting. Folding or unfolding takes just a few moments; the dedicated control lines are led back along the aft crossbeam to a triple jammer. They include: cap shrouds, trampoline tension and float restraints. To unfold, just take in the line, and give it a few turns on the winch, then insert a locking pin to keep the arms open. On the other hand, dismantling it in preparation for transport by road requires a whole day. The floats and the arms must be dismantled, the sails unbent and the mast unstepped…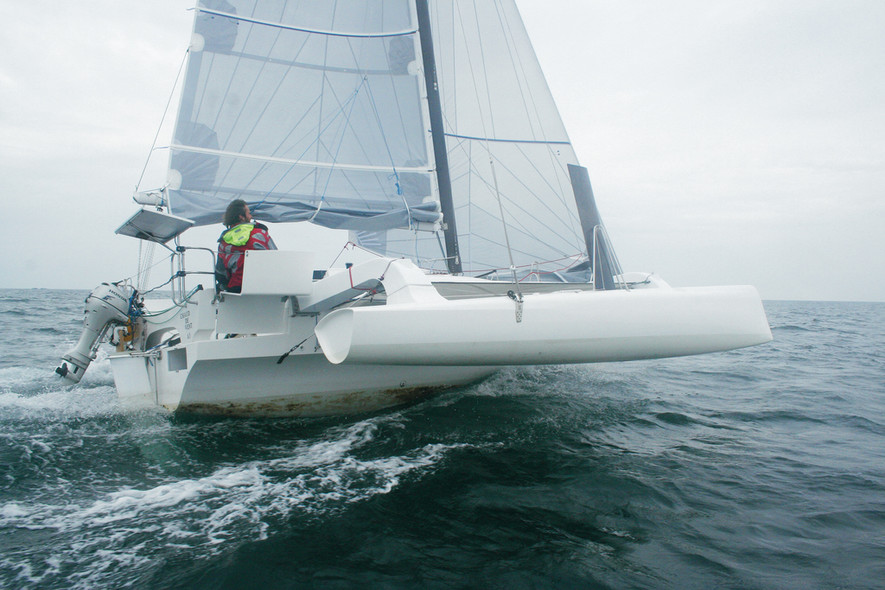 Off we went. As soon as we left the shelter of the island, the wind freshened. In these ideal conditions, at 120° to the true wind (which was blowing at around 18 knots)...
To read in full,
Buy the boat test
Boat Test price$5.00Inc. tax
Purchase
What readers think
Post a comment
---