Buy a boat
2015 Multihull buyer's guide: Day-boats
ASTUS 24 NEW
With the Astus 24, the builder is offering a multihull which can do everything: this folding trimaran will allow you to go to sea for the day, to enjoy yourself at the helm, as well as to go cruising for a few days. The huge cockpit is pleasant and well-protected, and at 7.4 meters long, the Astus 24 also offers a small cabin, with a salon, a galley a forward cabin and a toilet...not to mention the numerous stowage spaces. Folding and transportable, as are all the Astus, the 24 is easy to assemble, with its ingenious singlehanded mast stepping system.

TECHNICAL SPECIFICATIONS
Country: France
Builder: Astus Boats
Length: 7.40m
Beam: 2.54/5.25m
Weight: 850 kg
Mainsail area: 22 m²
Jib area: 12.6m²
Spinnaker area: 30m²
Price: 55,250 euros inc. VAT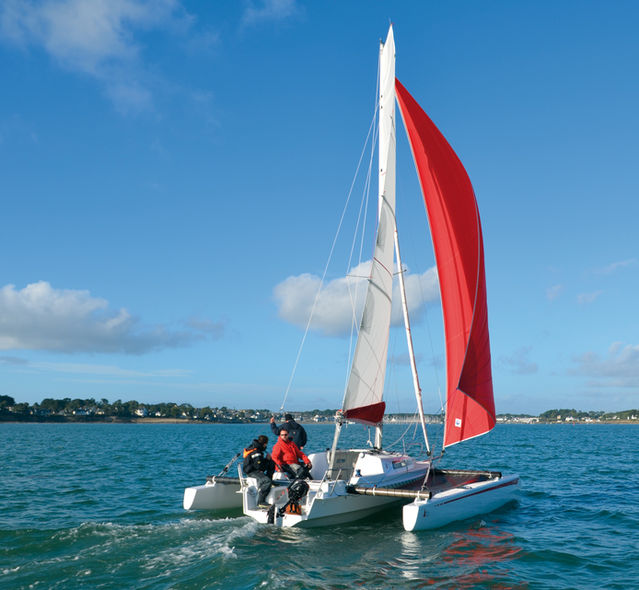 AIRPLAY NEW
Here is a newcomer to the world of cruising trimarans, which will without a doubt get tongues wagging. Its high-tech construction in infused carbon (for the Raw version) allows it to offer performance worthy of a racer, whilst providing interior comfort. Because the Airplay is being offered in three different versions, all of which can of course be folded and are transportable: the Sport, the Sport + and the Raw 30 versions, which allow up to 6 people to be accommodated aboard. Not bad for a 30-footer designed above all to sail fast and offer its crew real pleasure at the helm...

TECHNICAL SPECIFICATIONS
Country: China
Builder: Airplay Trimaran
Length: 9.20 m
Beam: 2.5/6.88m
Weight: 1.3t
Mainsail area: 44m²
Jib area: 18m²
Gennaker area: 90m²
Price: 117,858 euros exc. VAT (Sport version – ex-builder)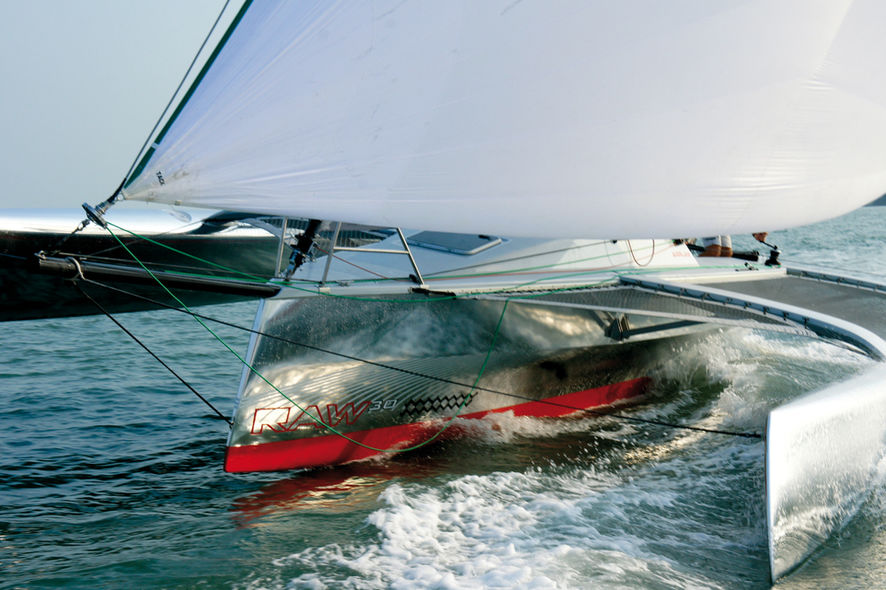 TRICAT 25 EVOLUTION NEW
The Tricat 25 Evolution, which we discovered at the fall boat shows, really is a new boat, and not just a development of the Tricat 25 (as its name could lead you to believe). It offers a new, more functional and warmer interior, as well as new cross beams in carbon, new floats, and a new sail plan which offers increased but more useable power. The Tricat 25 Evolution is stiffer, thanks to its construction using infusion techniques, and the use of a carbon – epoxy sandwich, and is even faster.

TECHNICAL SPECIFICATIONS
Country: France
Builder: Tricat
Length: 7.70m
Beam: 2.52/5.50m
Weight: 720 kg
Mainsail area: 22m²
Jib area: 12.70m²
Price: 45,750 euros exc. VAT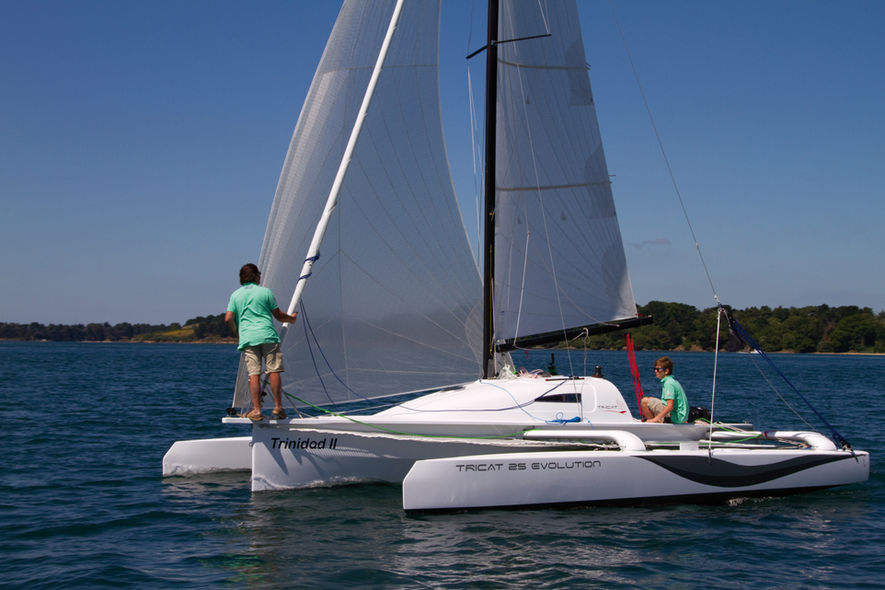 RADIKAL T26 NEW
The Radikal T26 is designed, as is becoming the way with new boats, to offer real sailing pleasure on a light, fast trimaran. Designed by Perspective Design, the Radikal T26 is fast and fun, but also reassuring. The large cabin can accommodate up to 4 people, making it a boat which is as pleasant for families as it is for taking your racing friends to have fun.
Note that several options are available, including the 'full carbon' treatment for the hull and floats – the beams and the mast are in carbon as standard.

TECHNICAL SPECIFICATIONS
Country: France
Builder: Radikal Boats
Length: 7.93m
Beam: 2.50/5.70m
Weight: 700 kg
Mainsail area: 31m²
Jib area: 17/21m²
...
Become a member
Become a Multihulls World Community Member for free and get exclusive benefits
Become a member
What readers think
Tell us your opinion