Buy a boat
Second-hand - Sailing light and recycling: an act of eco-boating?
Studies on the environmental impact of leisure craft are based on a 20-year cycle. This result obtained at the request of Fountaine Pajot is based on 200 usage scenarios. In reality, it is more like 40 years that should be considered: this is the real-life expectancy of a cruising boat... but true enough, a unit launched in 1982 won't necessarily make you dream, unless you undertake a serious refit. Let's also recognize that the period from 20 to 40 years might often be punctuated by long periods of immobilization - even abandonment. In other words, the multihulls concerned are less active than more recent units. However, (re)using a catamaran or a trimaran that left the shipyard 4 or 5 years ago is not really an ecological approach... In this selection, we're going to take a look (without being exclusive) at models launched 20 years ago or a little more. Given the length of time some multihulls have been on the market, the latest vintages may be a little "younger". Logically, we have selected only sailing multihulls, which are much less polluting than power multihulls - the market for electric multihulls is too recent to have developed a real second-hand market. One last requirement: the 12 multihulls presented here have a sail/displacement ratio of more than 10 m²/t, meaning there's a guarantee of it being worthwhile to hoist sail as soon as you feel the first gusts of wind.
---
Dragonfly 920
A safe bet among cruising trimarans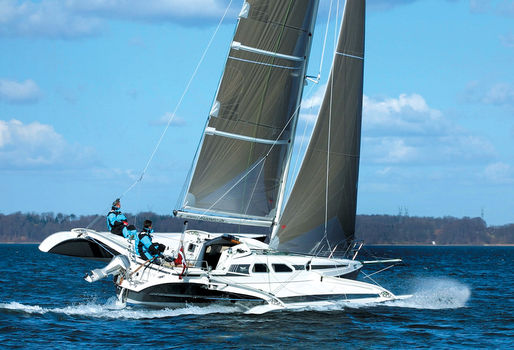 The number of cruising trimaran builders can be counted on the fingers of one hand, but their creations are worth a look... The Dragonfly 920 is one of those cruising boats that manages to check all the (right) boxes. And to top it off, it costs more in the marina than a monohull of the same length…
To solve the problem of port space, Danish builder Quorning Boats has been folding the arms of its trimarans since 1989. The Dragonfly 920, designed by Børge and Jens Quorning and launched in 1996, was available in three versions and underwent certain developments throughout its career. The first were built in a glass/squared foam/polyester sandwich, but the series developed by then using vinylester. The 'Touring' version of the early years featured an excellent standard of finish. It was notably one of the first boats to introduce, a year after its launch, a rolled filament carbon mast as standard. The fittings were also selected from the best products available at the time, from Frederiksen and Andersen for the winches. In 1998, the 'Racing' version was attired with a carbon boom that was 18" (50 cm) longer, and a heavily-roached mainsail, boosting performance. But in 2003, the 'Extreme' version arrived on the scene with floats 39" (1 m) longer and above all more voluminous, raised arms 18" (50 cm) longer, increasing the beam by the same as the floats, and a mast 5' (1.5 m) taller, rigged with a more generous square-headed mainsail. In ten knots of wind, you can sail at 7 – 8 knots to ...
Subscribe
Subscribe to Multihulls World and get exclusive benefits.
Subscribe
What readers think
Post a comment