Offshore racing
From Coffee to Rum……
From one legendary transat to another.
The Jacques Vabre Transat will be riveting stuff, because the boats involved will be pushed to their limits by some top level pairings, and because this race is also ideal preparation for the future Route du Rhum/Destination Guadeloupe 2018. Just imagine the turbo-charged fleet that would be lining up in St Malo if all the M50s and the Ultims (these are multihulls that are longer than 60' including the MOD 70 and Spindrift 2, with the criteria being slightly less strict than the usual Ultim limits of 24 to 32 meters) are all present for this 40th edition!  We must also mention those defectors from the M50 class, which is currently in a state of flux-see article and the 40's from the Rhum multi class including the powerful Jess of Gilles Buekenhout (see his views later in this article). Some classic Golden Oldies of all sizes will also be there. Just to name a few including the three A Capella diehards: A Capella (Acapella/Charlie Capelle, Bilfot/JP Froc, Happy/Loïc Peyron), Pir2/Etienne Hochedé (Langevin 50'), Rusty Pelican-Koen Joustra (Newick 44', as long as all the work is done in time), and Pierre Tanay's Trice 3 (Newick 37-40')… In short, this 40th anniversary edition should break all the records. Whilst looking forward to the hugely anticipated departure  of this mythical race on the 4th November 2018, we thought that we'd find out what some of the M50 skippers are thinking before the Jacques Vabre and the next Rhum.
How are things for the MULTI 50's?
Armel Tripon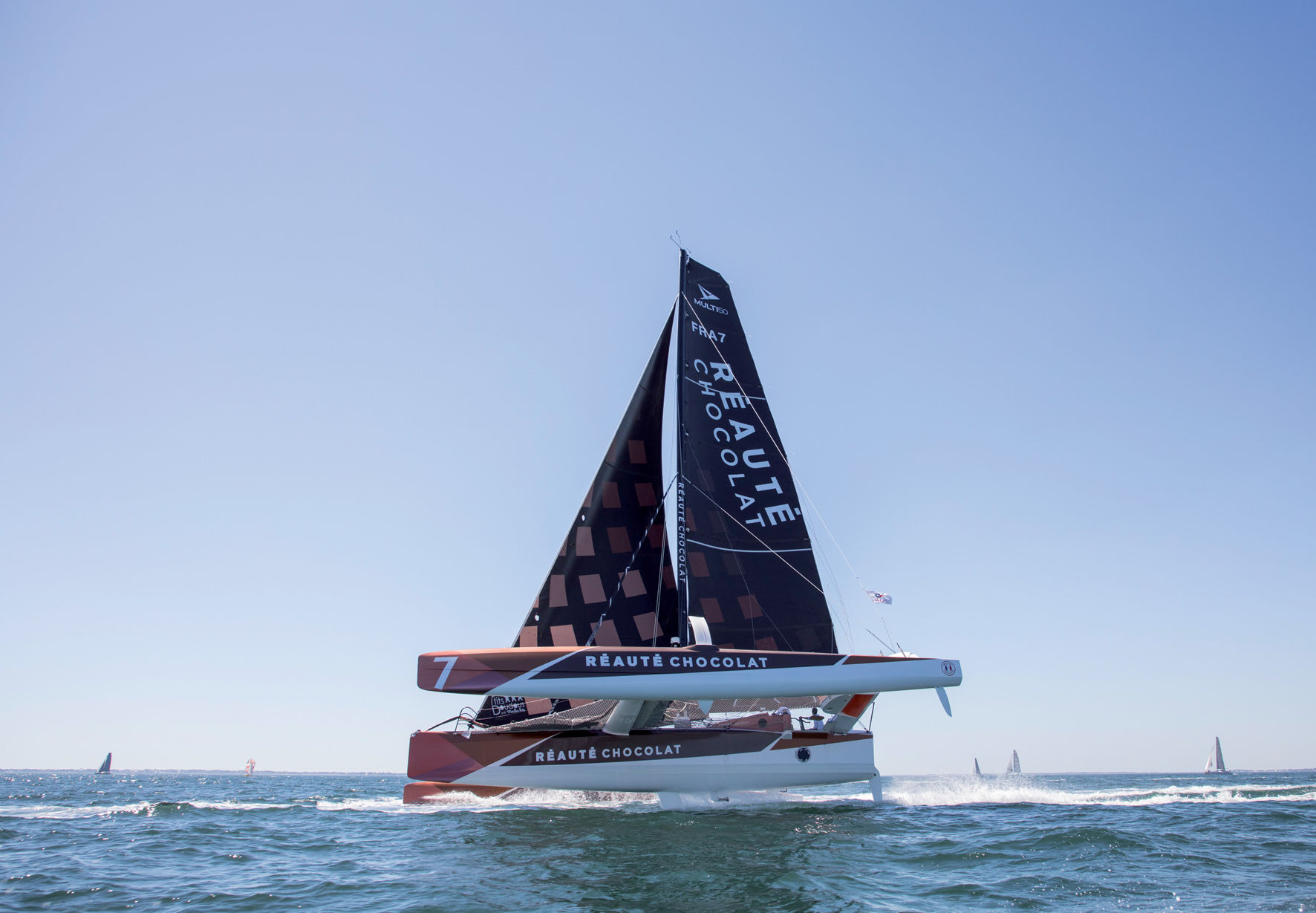 We have just finished our 1,500 mile qualifying test on Réauté Chocolat in varied conditions. There was notably a sector around Fastnet in 30 knots of wind and with 3m waves. It was the first real test for us two out at sea and we are very pleased with what we have seen so far of the boat's performance in the water with all the electronics, the nav system and the sails all in place. We've come back with a serious "to do" list with the Transat fast approaching! After the launch in April, we did some crewed sorties in the bay plus some racing, training and a few public relations trips with our sponsor. We only really started sailing as a duo at the end of July, and that will carry on in September and October with some sessions out at sea for several days to help us get into the swing of things. We will need to learn to coordinate, foresee maneuvers and get used to the boat at night, as well as learn those moves which will have to become second nature as well as getting used to working the nav system. We'll be on the starting line for the Jacques Vabre Transat with Vincent Barnaud. This race will help me to reinforce my experience of ocean sailing with a small crew and also do some solo maneuvers in light airs. We will set out hoping to give a good account of ourselves. I'll be on the start line for the Route du Rhum too. This race began in 1978 with the unbelievable victory of Mike Birch (just 98 seconds!), on a small 12m yellow ...
Become a member
Become a Multihulls World Community Member for free and get exclusive benefits
Become a member
What readers think
Tell us your opinion