Pacific Ocean
The Pacific: the ultimate aim of all cruisers
The major departure area for charter enthusiasts in French Polynesia is Raiatea. Along with its neighbor Tahaa, you will have just one and the same lagoon to explore, which gives a vast number of anchorages without finally needing to go out on the open sea. Crews who haven't got their sea legs will be delighted... Those who want to venture out into the poorly-named Pacific, can envisage going as far as Huahine, whose lagoon offers some sublime anchorages. And if you feel like it, you can even push on to the most mythical island in Polynesia, Bora-Bora... This is one of the most visited islands in the archipelago. Once in the lagoon, you are free to follow your own route, according to your wishes. There are many anchorages, and each is more beautiful than the last. This is especially the case in the north of the lagoon, which offers absolutely wonderful underwater life, and water of an indescribable blue. Whatever your destination, you will in any case have a real aquarium under the hulls, and you will return with some unforgettable memories of your voyage. Note finally that in Polynesia, the cruising season is above all from March to October, thus avoiding the hurricane period, which runs from November to February.
So, do you fancy the myth?

The other important not-to-be-missed destination in the Pacific is New Caledonia. Because here, nothing less than the biggest lagoon in the world awaits you. The 1600 km long coral reef which surrounds the 'island of eternal spring' offers one of the most beautiful cruising areas, as well as a superb dive site. All you have to do is get in the water with your mask and snorkel, and you will discover an incredible sight: numerous fish of all colors, on a background of coral... Paradise! Moreover, once you have dropped anchor, don't hesitate to set up the fishing lines. You will thus provide an evening meal of sea bream or wahoo!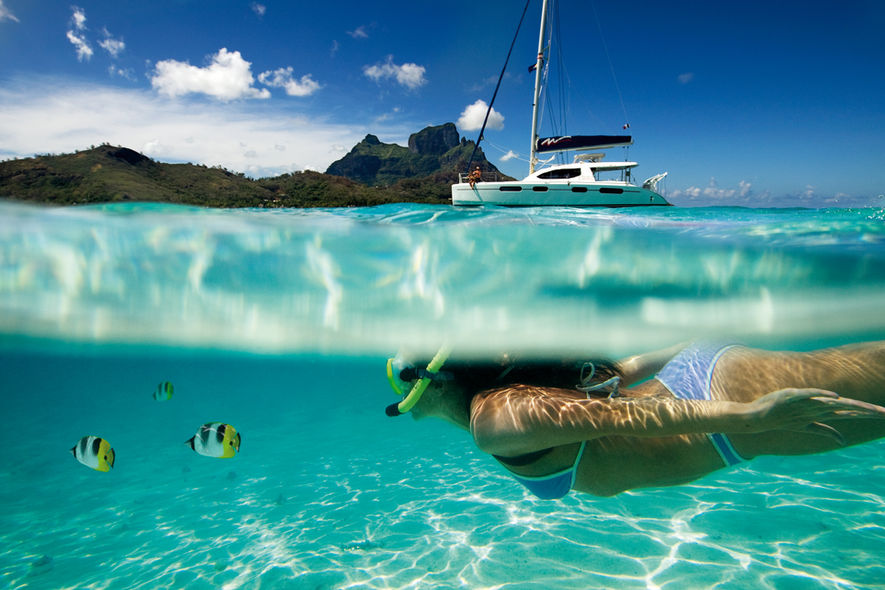 THE DESTINATION'S 'PLUS'
The ...
Subscribe
Subscribe to Multihulls World and get exclusive benefits.
Subscribe
What readers think
Post a comment