boat show
2016 MULTIHULL BUYER'S GUIDE
Certain traditions have a good side: sailing across the Atlantic during the first days of winter, meeting up with our readers at the boat shows, leaving to test boats on the other side of the world, and...the Multihulls World Buyer's Guide.
Once again this year we have compiled the technical files of more than 1300 catamarans and trimarans, to offer you the best possible view of the multihulls currently in production in close to 200 boatyards throughout the world. Enough to allow you to choose the boat you need to sail across the oceans, to see if our planet is still round and as beautiful, with full knowledge of the facts...

You will therefore find in the following pages all the new boats for 2016, as well as a few hitherto unpublished previews of boats already announced for 2017, and almost all of the best of the world's cruising multihull production. Information which is moreover enriched with videos, slide shows, and full tests, to be discovered on our web site: www.multihulls-world.com.
Nautic de Paris: follow the special Sabbatical Year ROUTE organized by Multihulls World
Once again this year we have joined forces with Le Nautic, to innovate, and invite visitors looking for information about ocean cruising and sabbatical years in general to follow a marked route through the show's various halls.
A route explained in the magazine, which will be handed out free of charge to all visitors, and in which you will find a TEST, to see if you really are ready to leave for a sabbatical year. A special edition, which you will also be able to download on our web site and our application for iPad or Android tablets.

The 2015 route:
All along the NAUTIC's aisles, you will see the 'CATAMARAN & TRIMARAN FRIENDLY' sign on participating stands, where you will receive a personal welcome to guide you and help you organize your future voyage, whether from a finance, preparation or equipment point of view, and of course discover and choose the boat of your dreams as well as the most beautiful nautical destinations.

And of course, as in previous years, the magazine's journalists will be at your disposal on our stand, to advise and help you (Hall 1 – C43).

For more information about this operation: www.multihulls-world.com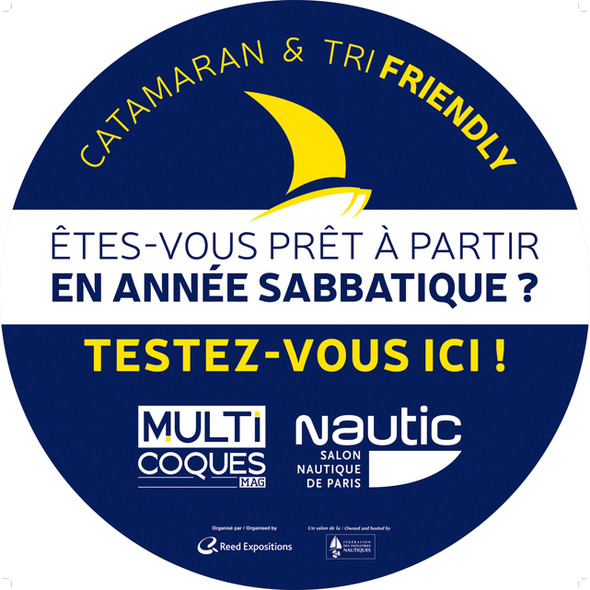 What readers think
Tell us your opinion