Catamaran
GUNBOAT 80 - Faster than the wind
You don't change a winning team, it's a well-known fact... So, it's the same trio (VPLP/Le Quément/Chedal Anglay) as was in charge of the 68; the silhouette is immediately identifiable and responds to the desired effect of the range. But the Gunboat 80 is far from being a simple scaled-up version of the 68...

1- Like the sharpest offshore racing multihulls signed by VPLP, the mast has moved back slightly (2%) and is now on the coachroof. The mainsail, proportionally smaller, thus keeps a perfect profile even when reefed. 
2- The headsails, including self-tacking J2 and J3 sails, adapt to the wind strength and angle without being hindered by the carbon martingale, which does not exceed the height of the compression beam. 
3- A must-have on a Gunboat, the forward maneuvering cockpit is made more welcoming by integrating extra seating, sunbathing area, and by having a choice of one or two access doors to the interior. 
4- Though the traditional interior helm station is still in the catalog, the less divisive option of two exterior helm stations is also on offer.
The coachroof can accommodate 6 to 7 kW of solar panels or, as an innovation, a "Fly Lounge". Not an unsightly and heavy flybridge, but a space accessible only when stationary: mattresses and seat backs that can be folded up to offer a different view of the anchorage.
2,700 to 3,200 square feet (250 to 300 m²) of upwind sail area: the mast of the Gunboat 80 is no higher than that of the 68, a real guarantee of safety. The extra power is found in the length and especially the righting moment - it increases by 40%. The structural forces are totally controlled by the architects and the builder; carbon bulkheads in Prepreg are integrated to ensure a light displacement of 29.5 tons including 10 t of structure.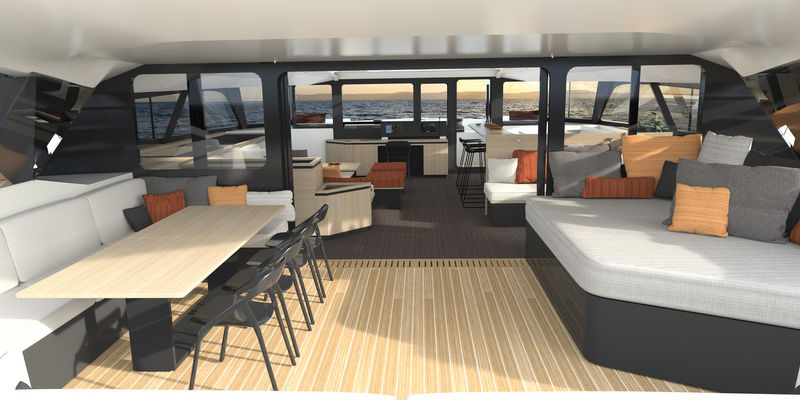 Galley UP or Galley DOWN? Either way, the Gunboat 80 is home to useful surface area clearly superior to that of the 68 without taking anything away from performance.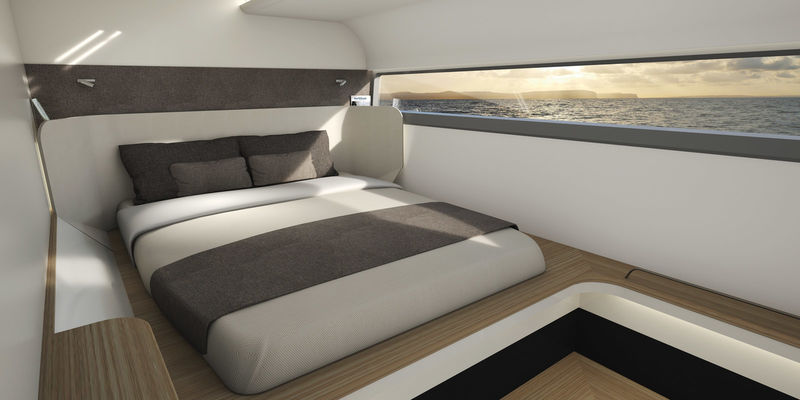 The starboard hull is ...
Become a member
Become a Multihulls World Community Member for free and get exclusive benefits
Become a member
What readers think
Tell us your opinion