Cruising
Qurantine cruising
To begin with and more important than ever, before any major crossing, it is strongly recommended that all crew members undergo a COVID-19 screening test before departure and take all the usual precautions until departure day. Indeed, a COVID case that occurs offshore could quickly become problematic, even dramatic. Conversely, once the crew has been tested and is at sea, it is finally time to drop the masks and regain - for a while - the carefree attitude of the «before».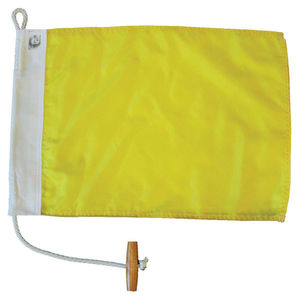 The famous Q (Quarantine) flag was stashed away in the bottom of a locker... until the coronavirus epidemic..
Make sure you are well informed about the situation in your destination country: even if the borders are not closed, the procedures have become very complicated. In most cases, you will not be able to land just anywhere; ports of entry where you can carry out the first formalities have now been designated. There is no question of arriving anyhow, let alone anytime: Advance Notices of Arrival (ANA) up to D-5 have become commonplace. You will have to agree to detail the history of each crew member, without forgetting all the required documents, attestations and health certificates. And then of course, it is the great return of the Q flag - known as free pratique - that is customary when you arrive in a third country. Q as in Quebec but also, historically, as in Quarantine. If you have to submit to it, you should therefore also make sure that you have a Lima flag and above all enough supplies for 14 days because the conditions are usually very strict. Whether you are in the marina, at the dock, or at anchor, you will most often be strictly forbidden from disembarking or even swimming.
USA/CANADA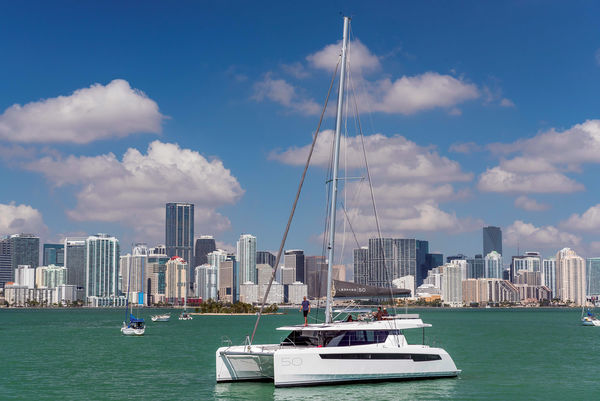 In North America, the situation is unfortunately quite clear. Mexico remains open to yachting but the Canadian coasts are inaccessible to you. In addition, the closure of the borders of these two countries with the United States has been extended. In the USA, just like last spring, regulations vary from one state to another. What is certain is that no pleasure craft arriving from Canada, Brazil, the United Kingdom or any country in the Schengen area can enter the USA. China and Iran are also on the list of excluded countries, perhaps for reasons other than those related to the coronavirus. Fortunately, the flow of sailboats is rather north-south at this time, and leaving states where boating is allowed is not a problem. It will just be necessary to comply with the regulations in force in the country of arrival, such as the mandatory fourteen days in George Town (Grand Cayman) after a crossing from Florida. If, however, you plan to enter the USA, this last state is to be avoided. It is better to enter further north in Georgia, at Brunswick or Savannah, making sure that you have your visas and a cruising permit which can be obtained in Puerto Rico. On the Pacific side, on the other hand, there is a slightly more optimistic outlook.
EUROPE


On the Old Continent, the ...
Subscribe
Subscribe to Multihulls World and get exclusive benefits.
Subscribe
What readers think
Post a comment