Catamaran
Sunreef Yachts - The world leader in Multiyachts
When I first met Francis Lapp and his son Nicolas at the Paris Boat Show in December 2000, I could not have imagined writing this article today. Both of them introduced me to their new company Sunreef Travel - now Sunreef Yacht Charter - which operates luxury catamarans for exclusive charters in the most idyllic sailing destinations in the world. The Multiyacht?
A fledgling concept in 2000!
In spite of their enthusiasm, I must admit that I was a bit puzzled. Apart from Douce France, the 42-meter (138-foot) VPLP that had just been launched in 1998 by Alumarine, the exclusive yachting offer - both motor and sailing - was at the time mainly monopolized by very luxurious monohulls. There were, of course, some almost twenty-meter (sixty-foot) catamarans being offered by Fountaine Pajot, and brands with beautiful finishes such as Privilège or Yapluka, or even some rare oneoffs such as those of Peter Quality Yachts. But overall, the level of service was largely insufficient for a clientele accustomed to the very top end. And it is precisely this quasi-vacant niche of luxury multihulls that the Sunreef brand targeted in 2002: one year later, the young shipyard launched its first 74-foot flybridge yacht in Gdańsk, Poland. Even if this particular multiyacht market segment was already coveted by other manufacturers at the beginning of the 2000s, it was still difficult for most observers to imagine investing massively in it. Sunreef did just that... and it is clear today that the beginning of the 21st century has seen the advent of the multihull - not only as an ideal platform for cruising, but also as an efficient vehicle in the world of luxury yachting (see MW Special Edition n°14 and 15). With more than 140 luxury catamarans - both sail and power - from fifty to more than one hundred feet produced, Sunreef has certainly played a leading role in this boom. Its vision has today materialized in the shape of a new ultra-modern shipyard, several ranges of multihulls from 50 to 110 feet and the start of the build of a 49-meter ( 160-foot) superyacht catamaran.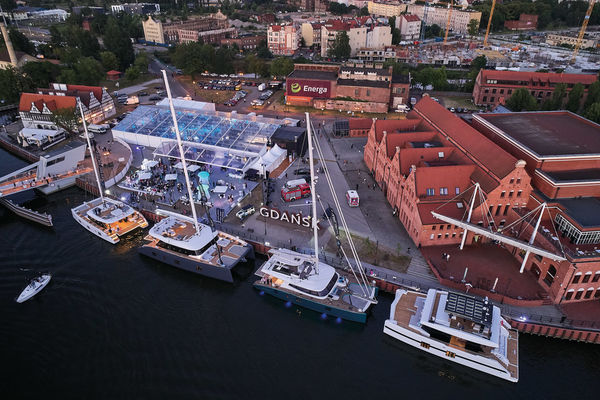 Poland has become an attractive European destination.
Sunreef need not hesitate when organizing prestigious meetings at its base when presenting its range of catamarans.
A Frenchman in Poland
But first let's look at the factors that have contributed to the success of the brand. The pioneering spirit is not everything. There are many other parameters that must be taken into account to understand the spectacular rise of this shipyard. Starting with the personality of Francis Lapp, the industrialist, which is worth recounting here. Born in France in 1958, he began his career in construction and electricity. He was mad about rally car racing and it was at one of these events that he discovered Poland. Seduced by the production and economic development capacities of this country, Francis decided to settle there in the 1990s. He quickly became a key player in the field of electro-connectics. ...
Become a member
Become a Multihulls World Community Member for free and get exclusive benefits
Become a member
What readers think
Tell us your opinion