---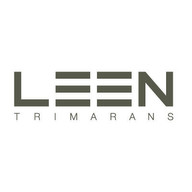 Neel Trimarans, born in 2009, can claim to be the only manufacturer to offer large production trimarans - 30 units are produced every year. Thanks to this unique positioning and their expertise, the yard announced the launch of a new brand of powered trimarans called Leen (an intelligent reflection of Neel, himself named after the owner and founder of the yard, Eric Bruneel), at Boot Düsseldorf. The advantage of these new ocean-going multihulls is their very low drag: consumption will be limited to 2 liters (just over ½ US gal) per mile at cruising speed (12 knots). The diesel engine in the central hull will be supported by two electric pods - one in each hull - to facilitate maneuvering in port and for leaving an anchorage with the greatest discretion. The Leens retain the principle of a vast platform covering the three hulls, but adopt smaller floats which are set further aft than those on the Neels, so that the deck plan, seen from above, is reminiscent of that of a monohull – just a very beamy one! Bernard Nivelt and Pierre Frutschi designed the first two models, a 56 and a 72. A first Leen has already been ordered by an owner of Neel 51, and production will begin in April with launch scheduled for January 2021.
---
Multihulls World Partners
Postcards
Discover the best of our readers' favorite destinations
Share your postcards
and receive one year's free digital subscription!
share now