Following on from their remarkable success in the cruising trimaran market, NEEL are now taking on the power sector – and still on three hulls. NEEL becomes LEEN, and a new brand is born! And with it, two models built for blue water, the 56 and the 72. We had the chance to go out on the newly-launched boat #1.
Place: La Rochelle, France
Conditions: Sea state slight, 10 knots of easterly wind
---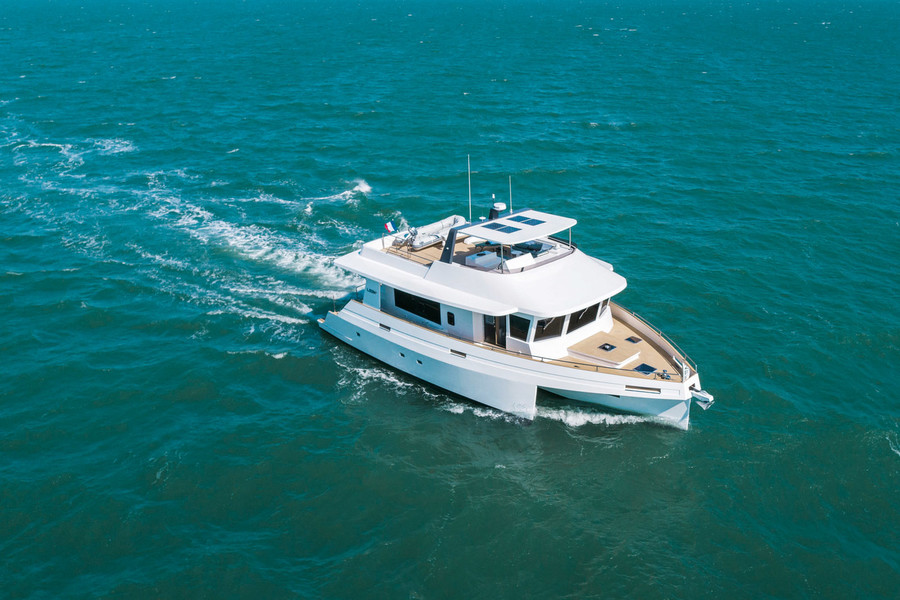 With fuel consumption just half a gallon (2 liters) per nautical mile at 9 knots and with 1,350 US gallons (5,000 liters) of fuel, the LEEN 56 can claim a record range.
The fine-entry bows guarantee good passage through the water
Before discovering the LEEN 56, you need to put aside everything you think you already know, or have learned, seen, experienced and debated about multihulls - and even everything about blue water boats. Without this reset, you'll be plunged into an abyss of confusion - over the design, of course, but also into making meaningless comparisons with other boats... The very concept of the LEEN 56 may even escape you. In short, this motor trimaran – a powertri, we might dare to call it - is certainly something new; a third way in the true sense. Let's start by taking a look at the genesis of this project. Following the success of their sailing trimarans, NEEL became interested in the power sector - on three hulls, of course. But where most design teams would have been satisfied with a power version more or less in line with the existing sailboat, NEEL - henceforth LEEN for t...
To read in full,
Buy the boat test
Boat Test price$5.00Inc. tax
Purchase
What readers think
Post a comment
---