Buyer's guide
BUYERS' GUIDE 2020 : 40 to 45 feet
BALI CATSPACE : The 100% cruising catamaran
The successful Bali range (200 examples built so far!) is going to be bolstered by a new model from next January – whose first presentation is scheduled for boot Düsseldorf 2020. This newcomer, called Catspace, will be able to offer four cabins and ten berths for a length of 40 feet. As a bonus, a gigantic flybridge, unusual in this size. On the lower deck, the surface area is used to the maximum thanks to being fully-decked. However, careful construction methods will allow the light displacement to be kept to 9.2 t. And to fully enjoy cruising, Bali will be equipping their Catspace with impressive tankage. The refrigerated volume is not to be outdone either, with 265 liters (9.35 cubic feet). This new model will also be available in a three-cabin version.
Shipyard: Bali Catamarans
Architect: Lasta Design Studio
Interior designer: Lasta Design Studio
Overall length: 12.33 m (40'5")
Beam: 6.59 m (21'7")
Draft: 1.1 m (3'7")
Light displacement: 9.2 t (19,840 lbs)
Maximum sail area upwind: 101 m² (1,090 sq ft)
Engines: 2 x 20 HP to 30 HP
Diesel: 400 l
Fresh water: 700 l
Price: € 295,370 ex-tax
BALI 4.1 : On board, it's always the holidays!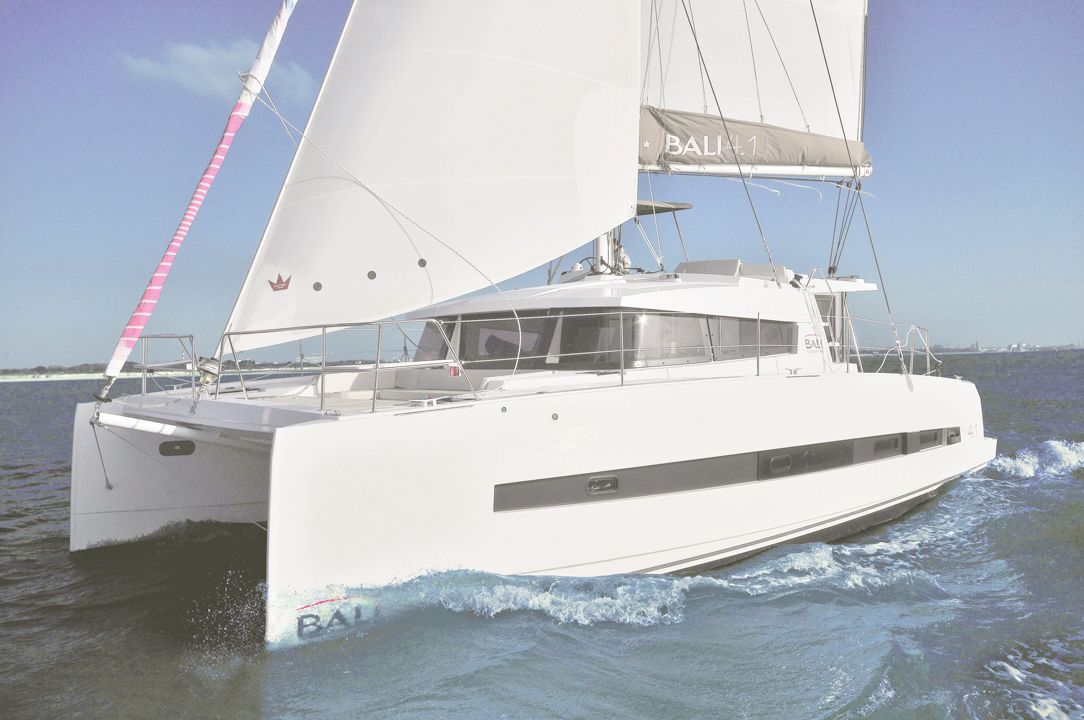 As a restyle of the 4.0 generation, the Bali 4.1 is now expressing her full potential. The quality of manufacture is there, the renewed design benefits the general atmosphere, making it even more attractive. The Bali 4.1 remains lively, pleasant to sail, easy to handle, and the innovations offered - aft platform, forward cockpit, flybridge, overhead door - are all relevant and well implemented. While many Bali 4.0 (140 examples built!) and 4.1 are in charter, this model is also very convincing in "private" use; for this, the owner's version that occupies the entire port hull is ideal.
Shipyard: Bali Catamarans
Architect: Xavier Faÿ
Length: 12.12 m (40')
Beam: 6.72 m (22'1")
Light displacement: 8.9 t
Upwind sail area: 81 m² (870 sq ft)
Engines: 2 x 19/2 x 40 HP Volvo
Fresh water: 800 l (211 US gal)
Fuel: 400 l (105 US gal)
Price: € 323,700 ex-tax
SEAWIND 1260 : The door retracts into the roof!
The 1260, in the Seawind range, is clearly oriented towards cruising. There's a choice of different layouts: galley down, in the passageway, or more traditionally, in the saloon. The 12.60 can be delivered with three or four double cabins. Another specific feature of the Seawind is the famous door separating the saloon and cockpit - a system that already existed on the yard's 1160 - that can be retracted into the top of the coachroof, thereby freeing up a giant living space, when at anchor or when under way in good weather.
Shipyard: Seawind Catamarans
Length: 12.45 m (40'10")
Beam: 6.80 m (22'4")
Light displacement: 8.2 t
Draft: 1.16 m (3'10")
Mainsail: 66 m² (710 sq ft)
Jib: 28 m² (301 sq ft)
Gennaker: 115 m² (1,238 sq ft)
No. of cabins: 3 or 4
Water: 700 l (184 US gal)
Diesel: 480 l (126 US gal)
Engines: 2 x 29 HP
This article was published in the issue 169. To read the full article, purchase this issue.
Subscribe
Subscribe to Multihulls World and get exclusive benefits.
Subscribe
What readers think
Post a comment