Buyer's guide
BUYERS' GUIDE 2020: 45 to 50 feet
NAUTITECH OPEN 46 NEW : Apart from the hulls, everything's new!
NEW
At the recent Cannes Yachting Festival, Nautitech presented a totally redesigned version of their 46 Open, and also their 46 Fly. Usually, manufacturers undertake light restyling fairly often on their models, but it's a different story here, with the 46: apart from the Marc Lombard hulls, which remain identical - even though the topsides will now feature larger openings - everything else has been redesigned and redrawn. The accommodation and deck layout are therefore new. The rig is now a little more powerful, gaining 2 m² (21½ sq ft) of sail area.
Builder: Nautitech Catamarans
Architect: Marc Lombard
Overall length: 13.79 m (45'3")
Waterline length: 13.71 m (45')
Beam: 7.54 m (24'9")
Draft: 1.45 m (4'9")
Displacement: 10.80 t (22,046 lbs)
Mainsail: 76 m² (820 sq ft)
Self-tacking jib: 38 m² (410 sq ft)
Engines: 2 x 40 HP
Diesel: 2 x 300 l (2 x 79 US gal)
Water: 2 x 300 l (2 x 79 US gal)
Price: € 455,000 ex-tax
SAONA 47 : A safe and efficient catamaran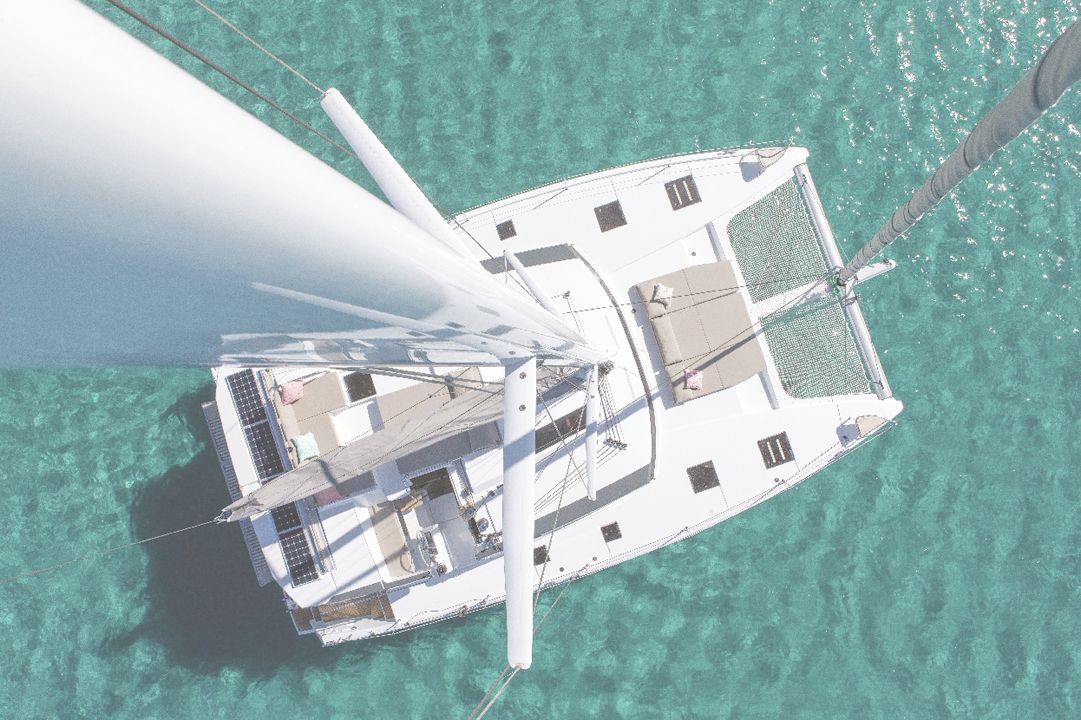 Between the Elba 45 and the Saba 50, Fountaine Pajot positioned a 47-foot catamaran, the Saona 47. The version we tried, with carbon mast, Dyneema rigging and membrane sails is particularly attractive... but even without these luxurious options, the Saona shows interesting potential. The silhouette is successful and the helm station as practical as it is comfortable. The seakeeping behavior felt safe: during our test, we faced a Mistral blowing at 50 knots. The 47 clearly benefits from the new standard of quality evident on board this latest generation and the creativity of Isabelle Racoupeau, in charge of interior design.
Shipyard: Fountaine Pajot
Length: 13.94 m (45'9")
Beam: 7.70 m (25'3")
Light displacement: 13.3 t
Draft: 1.30 m (4'3")
Mainsail: 75 m² (805 sq ft)
Genoa: 52 m² (560 sq ft)
No. of cabins: 3 or 4
Water: 700 l (185 US gal)
Diesel: 2 x 470 l (2 x 124 US gal)
Engines: 2 x 50/60 HP
Price: € 546,779 ex-tax 
LAGOON 46 : The aft-set mast does good!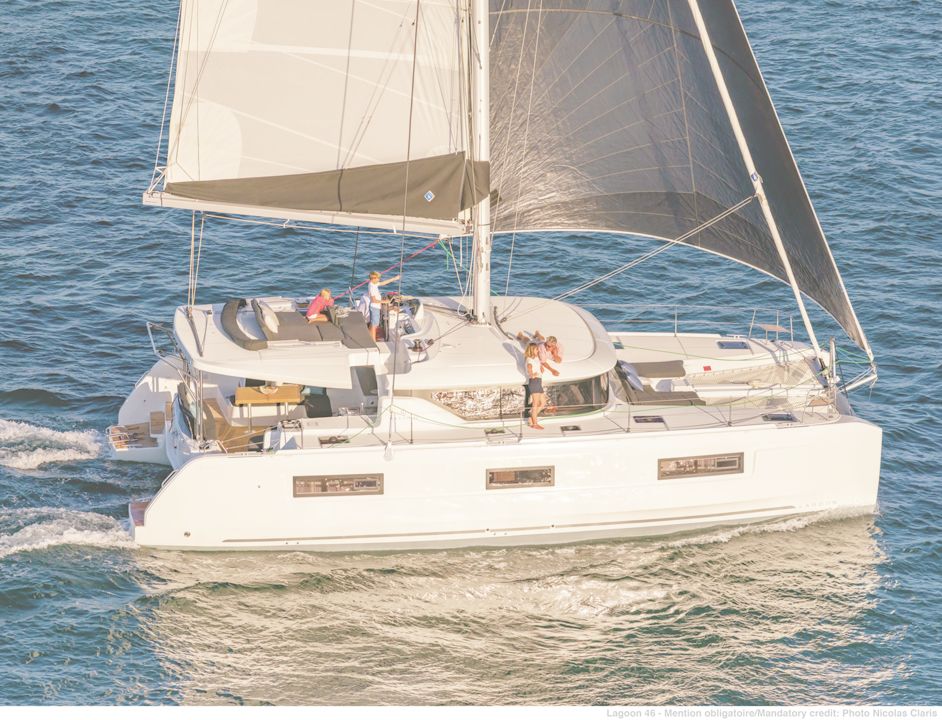 A tough task for the Lagoon 46: replacing the 450 - the world's best-selling cruising catamaran with 746 Flybridge units and a hundred S versions launched. After the Lagoon 39 and 52 (which appeared in 2013), then the 42, 40 and 50, the 46 in turn continued with the aft-set mast. This catamaran has attractive volume and layout; the 46 also ensures good average speeds under sail with a family crew thanks to her modern, tolerant and fun-to-use sail plan. The mainsail/code 0 combination in light airs, and mainsail/solent in a breeze are very effective. If owners manage not to overload her beyond what is reasonable, they'll be able to take advantage of everything she has to offer!
Shipyard: Lagoon
Length: 13.99 m (45'11")
Beam: 7.96 m (26'1")
Light displacement: 16.6 t
Draft: 1.30 m (4'3")
Mainsail: 87 m² (935 sq ft)
Self-tacking jib: 50.5 m² (545 sq ft)
Code area 0: 110 m² (1,185 sq ft)
No. of cabins: 3 or 4 double ...
Subscribe
Subscribe to Multihulls World and get exclusive benefits.
Subscribe
What readers think
Post a comment