Technical
Construction - Multihull manufacturers and the green challenge
With multihull order books now often being full for several years in advance, this is undoubtedly the moment to question the impact of the entire yachting sector on our environment. This is doubly critical, both as citizens, modest temporary inhabitants of planet earth, and as sailors, whose natural playground, the sea, covers 70% of the surface of the globe. The oceans are, moreover, an important thermometer - in every sense of the word - of the evolution of our climate and of the impact of human activity on it: temperature, pollution, biodiversity, weather phenomena, and much more besides.
LCA, for life cycle assessment
Despite the current absence of a common authority, the figures seem to converge: the carbon footprint of a multihull is 80% related to its use and 20% to its construction. With this in mind, builders might be tempted to pay little heed. But the prospect of the pertinent electric drivetrain could well reverse this ratio in the very near future. Between the launch of new products and the need to secure their supply chains, the subject of green is being brought to the table at boat-builders large and small. The subject of green because, the more we delve into the theme, the more that new areas of concern appear, sometimes with endless depths of analysis. The first acronym encountered when approaching the ecological balance of the construction of an object in general and a multihull in particular is LCA, for life cycle assessment. To address the problem mentioned above, it is often given an S, for simplified LCA. This standardized method was developed in the 1990s to measure the quantifiable effects of products (or services) on the environment. The LCA of a multihull identifies and quantifies, throughout its life, the physical flows of material and energy associated with it. Beginning right from its design all the way to its destruction, through its construction and use, without forgetting the intermediate phases of transport. It is based in particular on what are called the incoming flows (raw or processed materials, energy, water, etc.) and outgoing flows (waste produced, emissions released, etc.). Precise identification of these flows is a long-term task, as the phenomena involved, and their interactions can be particularly complex.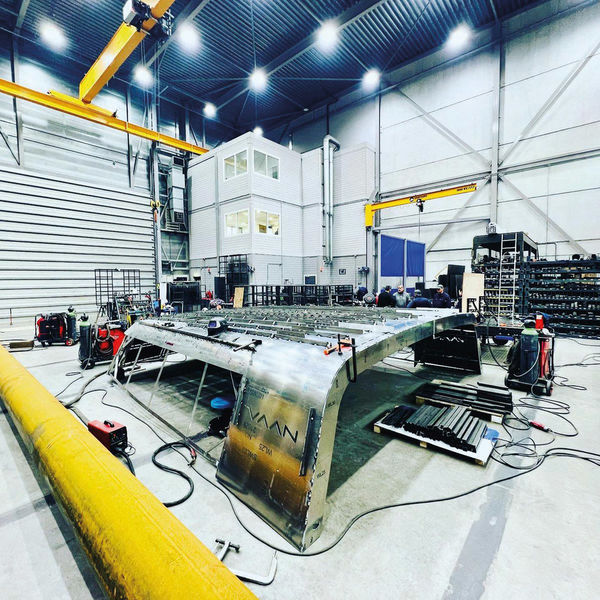 Vaan Yachts uses 60% recycled aluminum and features materials such as cork as the deck covering.
Reducing energy outlay
Let's start with the easiest topics: the first among them is energy. For designers (naval architects, designers and engineering firms, to mention but a few), who use a lot of data, servers and energy-intensive supercomputers, this is a key area to reduce emissions. Opting for a supplier that offers 100% renewable electricity is an immediate, easy and cost-effective way to significantly reduce environmental impact. Electricity is also a very important factor for shipyards. According to figures shared by the 11th Hour team, the entire industry could reduce its direct ...
Subscribe
Subscribe to Multihulls World and get exclusive benefits.
Subscribe
What readers think
Post a comment