boat show
Hints and tips from long-term sailors
Fenders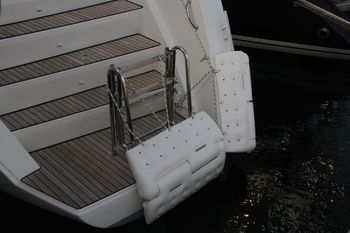 Round, square, angular?  All three, Captain!  The first have the advantage of taking up less space and remain in place, even in windy conditions.  The second are voluminous, but perfect for spreading the load on the hull - and sometimes hatches.  But if they're not held in place, they can sometimes fly off and end up uselessly on the deck.  The third are ideal for the sugar scoops. 
Boom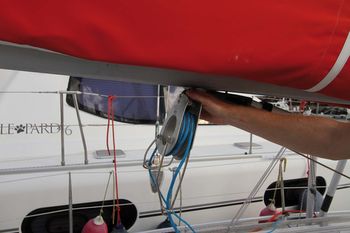 Crossing the Atlantic - more specifically, heading for the Caribbean - means downwind sailing, which may entail frequent gybing.  To avoid the risk of breakages (gooseneck, battens and so on), the boom brake has many fans.  The use of a padeye at the gunwale allows the mainsheet to be attached with a better angle of pull, favoring good control of the mainsail leech, and easing the load on the vang…  Note: newer models, more inconspicuous and aesthetic, have been available for some years.
Getting ashore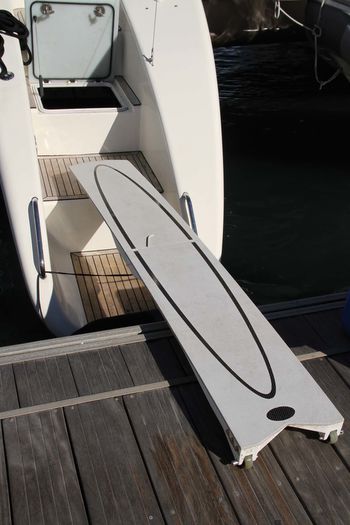 Getting down onto the dock is easy with recent models that are equipped with a pivoting platform.  But otherwise?  You'll need a passerelle if you're going to be moored stern-to.  Folding (or not) in carbon fiber or a simple board (slatted, if possible, to make it non-slip) - there's something for every budget!  If you are bows-to the dock, fit a ladder to your pulpit, or a cut down set of steps.
Antennas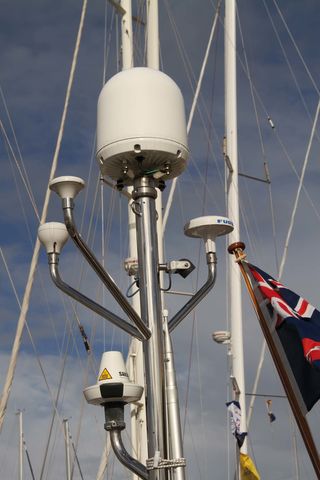 GPS, Iridium, Wi-Fi, radar, and so on… there are antennas and radomes everywhere!  So, why not fix them all to a single mast, like a Christmas tree?  Ultimately less weight and windage!
Dinghy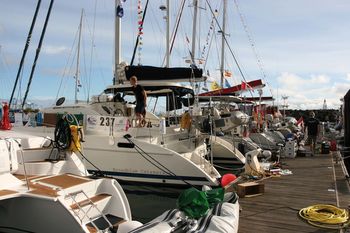 Doc 76-05
Getting the dinghy and its heavy motor up on the davits: here's one of the advantages with our catamarans…  But in the end, they're better stowed in a locker and the outboard fixed somewhere secure!
Electric motors
One to two hours running time, no noise and zero pollution: electric outboards come into their own in a lagoon!  Providing you can charge the battery… which means having AC power on board.
Fishing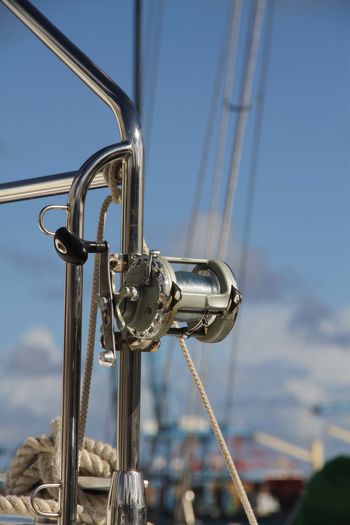 Offshore, there's no lack of fish: fresh dorado or fresh tuna are a food lover's delight.  So you'll need all the gear for trailing a line set in place: rod holders and spools are useful additions to the pushpit.
Wi-Fi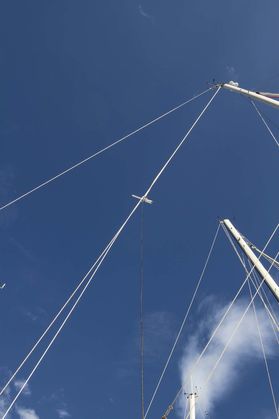 There's nothing worse than trying to contend with a Wi-Fi signal which is flitting between one and three bars.  Cunning DIY-ers have made signal amplifiers out of beer cans…  but a Wi-Fi signal booster in the rigging works every time!
Liferaft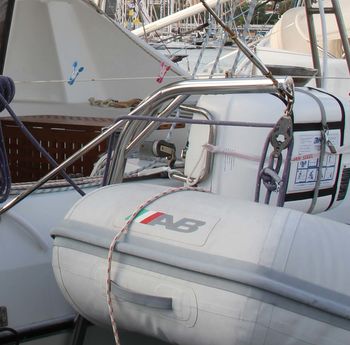 Look after your raft!  It'll be much better outside than in the bottom of a locker, for obvious ease of use in an emergency.  So long as it isn't somewhere it can be knocked, or walked on: the solution if your multihull isn't equipped with a proper housing for it, is a custom-made stowage position, integrated into the guardwires or on the pushpit.
Solar panels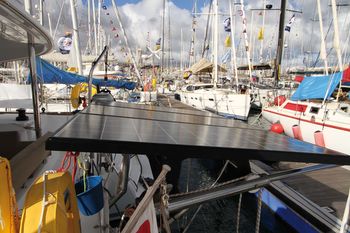 Seen on just about every offshore racer and cruising sailboats.  Solar panels: they work!  Watch out for anything which puts them in the shade - even the mast or ...
Subscribe
Subscribe to Multihulls World and get exclusive benefits.
Subscribe
What readers think
Post a comment