Multihull
Multiyachts - A booming market!
The advantages of a multiyacht compared to a «classic» superyacht are striking: twice as spacious for the same length with the space distribution guaranteeing the possibility of privacy for guests and crew, XXL exterior seating areas, a central platform with 360° vision to the exterior, excellent stability and finally, thanks to the low drag of its hulls, economy of operation. It is undoubtedly this last parameter that carries the most weight when considering the pros and cons: a multiyacht is capable of maintaining a consumption of 20 to 50 liters (5 to 13 US gal) / hour whereas we have got used to motor yachts with averages of 400 liters (100 US gal) /hour. The catamaran or trimaran formula responds to the demand for luxury and space but allows us to significantly limit our carbon footprint. This is not really a budgetary argument: it is rather the desire to respect the environment which is starting to take precedence. It helps to promote an ecological image which is now becoming unavoidable along with all the top of the range services.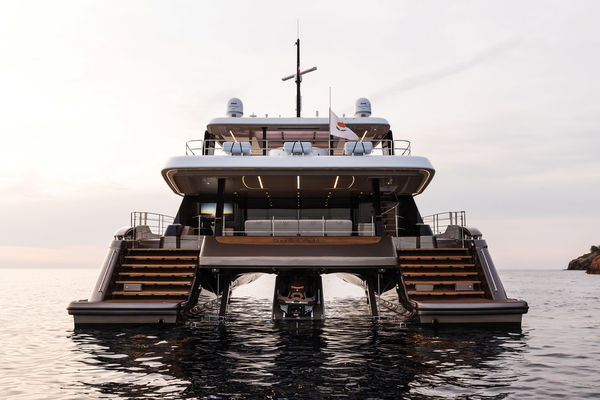 Sunreef Yachts is the leader in the multiyacht segment. The model shown here, the 80 Sunreef Power, is also available in a sailing version.
High quality features worthy of a luxury hotel
A multiyacht is a vessel capable of accommodating at least 6 to 8 guests in top-of-the-range levels of comfort and style. Its services must include fairly spacious cabins with private bathrooms. As for the owner, he or she obviously benefits from their own suite with office and dressing room. There is also a saloon with bar, dining room, sunbathing area, outside relaxation areas, easy access to swimming and finally a tender capable of bringing all passengers ashore in a single rotation. A multiyacht is skippered by a crew of three or more, including the skipper, a cook and a hostess. These experienced professionals have their own living area which is isolated and comfortable - it is equipped with a professional galley, large food storage and laundry facilities to ensure top service for long periods or even whole seasons. State-of-the-art communication and multimedia equipment is also a prerequisite for a great week's vacation. In short, all of these features are simply those that now correspond to the standard offer of luxury charter agencies. So many features suddenly become possible aboard a 70-foot catamaran where the living area sometimes rivals that of a 100-foot monohull.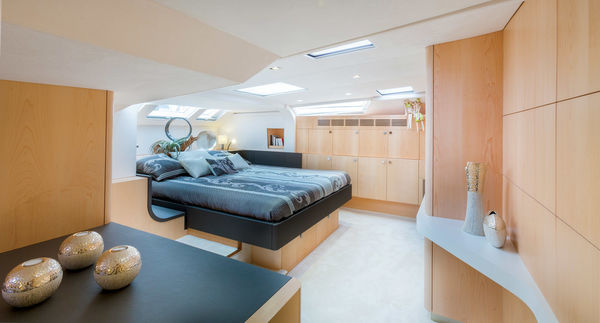 Privilège Marine has a presence in the 70-80 feet market with its 740 Series. This model is characterized by its remarkable Owner 's cabin.
The rise of the 70+ footers
Luxury multihulls from 85 to 110 feet long - or even longer - are only made to measure. These are custom vessels. The project starts on the drawing board and/ or the computer before eventually evolving into a real, unique and original yacht. Since 2000, about twenty units have been produced worldwide. The largest 100- foot supercats remain rare and exceptional. On the ...
Subscribe
Subscribe to Multihulls World and get exclusive benefits.
Subscribe
Articles from the same story
What readers think
Post a comment