Offshore racing
Route du Rhum - A multihull race open to everyone (or almost) and to sailing legends?
In the wake of Mike Birch, the first winner of the race in 1978 - and in a multihull!
On November 6, and for at least 15 days, we'll be closely following these solo skippers and their two or three-hulled craft. So, let's introduce them.
© Route du Rhum/Alexis Courcoux
The eclectic nature of the Rhum Multi class is in fact written into the race rules, as this category is designed to accommodate all multihulls under 64 feet in length. But among the sixteen sailors, as the organization's rules demand, there will be races within the race, with three fairly distinct groups and two "out of class" boats. Kudos to the old-timers - they are our favorites here at of Multihulls World: there will be four "Golden Oldies" competing for Mike Birch's legacy. Three of them are racing on Dick Newick or Walter Greene trimarans that are very similar to the very first winner of the Route du Rhum, the famous Olympus Photo. Built in the early 1980s, they've lost none of their elegance, and sailing aboard them is a lesson in naval architectural intelligence. Despite their modest size - from 37'8" (11.48 m) for Charlie Capelle's Acapella to 42'4" (12.9 m) for Christophe Bogrand's Aile Bleue - they aren't afraid of heading offshore or of big seas. The former of these skippers is tackling his sixth Route du Rhum at the helm of his mythical yacht, a boat that has survived three shipwrecks! Laurent Etheimer will be at the helm of Happy (39'/11.89 m), a true sister-ship to Mike Birch's Olympus, that Loïck Peyron led to fourth place in 2018. And then there is Pir2, the foiler designed in 1983 by Sylvestre Langevin: this multihull should be being for sailed a second time by Etienne Hochede. "Should" because the man who received the perseverance award from Michel Desjoyeaux in 2018 could this year claim the same title even before starting his third Route du Rhum. Etienne capsized during the delivery trip between Guadeloupe, where he now lives, and Europe. Major repairs had to be carried out in deepest Cornwall, England. Getting "home" without worries will be the main objective of the Frenchman, who will have to reassure the many supporters he has picked up - including the Golden Oldies association, which has launched an online fundraiser to help him restore the trimaran and be at the start in Saint Malo. Then we've just got to "wait and see" whether he achieves a podium result perhaps. Etienne caused a bit of a surprise in the previous edition in 2018, placing third. 
| | |
| --- | --- |
| | |
Mike Birch, aboard Olympus Photo, won in the final stretch ahead of Michel Malinovski's Kriter VIII. A 36-foot (11-meter) trimaran won by 98 seconds over a 69-foot (21 m) monohull. The year was 1978, and the legend of the Route du Rhum was born! - © Route du Rhum/AFP/Marcel Mochet
Philippe Poupon waves to the crowd at the finish of the 1986 edition. - © Route du Rhum/AFP
We can't close this chapter without mentioning Moxie, the famous Dick Newick design, winner of the 1980 Ostar: her young skipper, Thomas Lurton, aged just 25, could well be the one to rock the boat... provided he gets the green light to head for the startline, as he is currently stuck at top of the waiting list.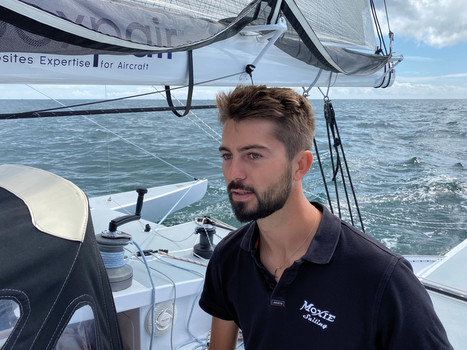 Will he? Won't he? Thomas Lurton, the Multihulls World's favorite, is still at the top of the waiting list as this issue goes to press …
© Emmanuel van Deth
A quartet worthy of the good old days of the Multi50s…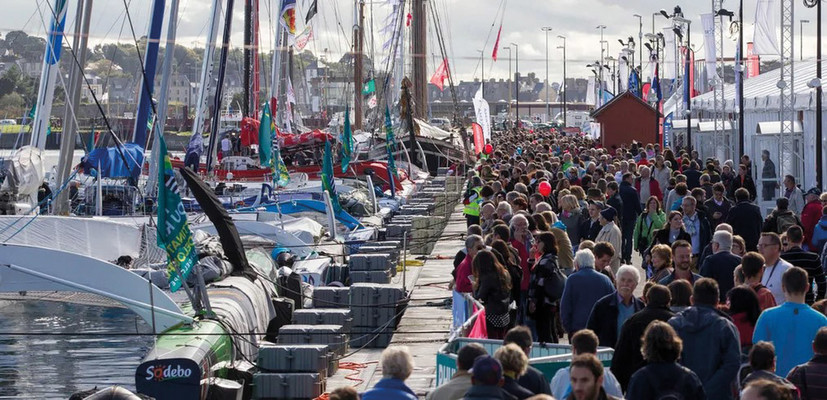 Four other multihulls will compete as in the good old days of the Multi50s, with the most recent 50- foot trimarans now gathered under the Ocean Fifty Class banner. For reasons of fleet uniformity, multihulls dating from prior to 2014 are registered in the Rhum Multi Class. There will also be only trimarans, built between 2003 for the most recent and 1987 for the oldest, Ille et Vilaine Cap vers l'inclusion, the local boat in the fleet, skippered by Fabrice Payen. Designed by British naval architect Nigel Irens, it was born as a 60-foot boat under the colors of Laiterie Mont Saint Michel of the late Olivier Moussy, and then shortened to become a 50-footer in 2006 by another sailor from Saint Malo, Victorien Erussard. The "youngest" of the "old" 50-footers is not yet 20 years old. It was actually launched in 2003 by a skipper that Multihulls World readers know well, Eric Bruneel, founder of the NEEL and LEEN trimarans. Bearing the name Trilogic at the time, Eric won the OSTAR transatlantic race in 2004, beating the event record in his category in the process!
Whether she gets such a good result or not, one thing is certain, her skipper David Ducosson will be entitled to a triumphant welcome in Guadeloupe since he is a native of Le Gosier, a town on the island. David is keen to arrive with his boat in good condition: he then plans to use his multihull professionally. He will also be hoping to do well in this, his second entry after having had to abandon in 2018. He is back in business with his family team, and he remains an unfailing supporter of the Guadeloupean association Dys de Coeur which helps children with "dys" disorders (such as dyslexia, dysorthographia, dyscalculia or dyspraxia). Erwan Thiboumery will also be at the helm of a boat whose plan was signed by the talented Nigel Irens, the former Dupon Duran 2 of Pascal Herold, now called Interaction. Finally, the Israeli Oren Nataf will be sailing the Pulsar 50 Rayon Vert. A true amateur, he is nevertheless an experienced skipper – we mustn't underestimate a man who has trained hard under the guidance of Sydney Gavignet, the latter taking on the role of luxury coach so that the Tel Aviv native can learn as quickly as possible how to use this trimaran signed by Erick Lerouge to its full potential. The real time victory of this competitor in the Drheam Cup in July was a great learning curve.
| | |
| --- | --- |
| | |
David Ducosson aboard his Trilogik Dys de Coeur
The class for those who have got nothing to prove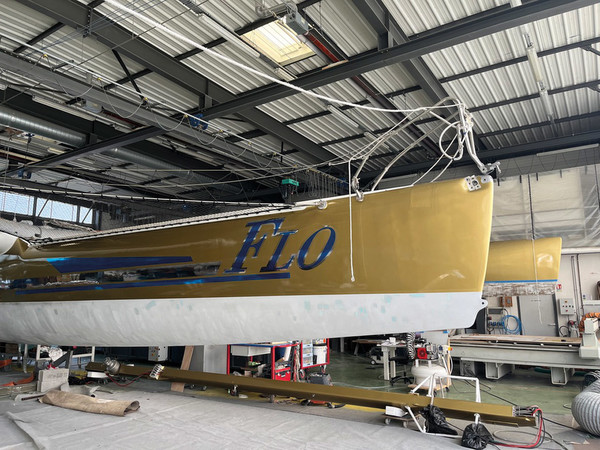 Pierre 1er has regained her golden livery but now bears the name Flo.
Let's move on to the members of "Ocean's Six", most of whom are very high-level skippers: we'd need to write an entire book to describe the combined achievements of Roland Jourdain, Marc Guillemot or Halvard Mabire - to name just three. All of them will be at the helm of catamarans, most of them standard. Even though the models are already performance oriented as standard, they have been boosted for the Route du Rhum. Four of them are 52 feet long and were built by Marsaudon Composites, as they are the TS5 and the ORC 50, the new name of this extremely fast Barreau-Neuman design. The architects, however, are not very reassured to see these skippers, although experienced, set off across the Atlantic single-handed in the fall. Christophe Barreau even has a very clear opinion about the participation of his designs (five out of the six registered!) "I think that these boats are not made for the Route du Rhum at all. I think that single-handed cruising catamarans are out of place, even dangerous. Unfortunately, as we have seen recently, there is not much margin for safety when, in a race, you drive your boat hard, all the time at the limit, with the windward hull barely in the water. But these are relatively light boats, so in case of being over-canvassed in too much breeze, there is no warning. The starting point for these boats was not to make them racing multihulls, but catamarans that go fast, without effort and without being forced to be at the limit. The idea is not to go at 20 knots, which is very uncomfortable, but to go all the time at 12 knots, with much less load on the winches, especially by reducing sail early enough." However, the skills of Gwen Chapalain (Guyader- Savéol), Halvard Mabire (GDD-Kraken), Loïc Escoffier (Lodigroup) - yes, he is Kevin's brother and Franck-Yves' son - and Brieuc Maisonneuve (60000 Rebonds) cannot be doubted. But when you're single-handing across the Bay of Biscay and there's a deep low-pressure system tracking across, you've got to know how to ease off the gas, keep your back to the wall and wait for it to blow through without taking any risks – so hotheads beware! "Sensible" sailing will in principle be the policy of Marc Guillemot. He showed us during our test (see page 86) how he intended to sleep with the mainsheet wrapped around his wrist, ready to flick out of the clam-cleat just below the winch, on which there will be only two turns to be sure he can release quickly in the event of big gusts or a squall. The man who experienced the great years of the Orma trimarans, at the helm of Biscuits La Trinitaine, knows all too well what "fickle" means, and his number one priority is to get his MG5 to the other side of the Atlantic. "Afterwards, why not in first place?" he says with a smile. Finally, because he doesn't like to do anything like everyone else, Roland Jourdain, sometimes better known by the nickname Bilou given to him by his friends from the Vallée des Fous, Jean Le Cam and Michel Desjoyeaux, will be setting sail on a 60-foot boat signed by VPLP. Outremer Yachting built him a flax-based catamaran using their 5X molds. Why did he take on such a constructive challenge? Because Bilou is not only a great sailor but also a visionary, and within the mission company Kairos that he founded with his partner Sophie Vercelletto, he wants to be part of an eco-responsible transition in ocean racing that's got him so excited.
So, who will win in the Rhum Multi class? Perhaps none of the talented sailors mentioned above. A certain Philippe Poupon, winner in 1986 and runner-up to Florence Arthaud four years later, is returning, this time at the helm of Arthaud's trimaran. And he might just widen the gap between himself and his pursuers... The former 60-foot Orma trimaran will regain its photogenic golden color. It will no longer be called Pierre 1er but very soberly, Flo. This amazing adventure is of course for Philippe Poupon a tribute to his friend who died tragically in 2015 in a helicopter crash in Argentina. But it is also the basis for the biopic that the skipper's partner, Géraldine Danon, is shooting. The suspense of the Rhum Multi class could therefore take a hit because even "under two reefs and without getting up from his chair, he will finish ahead!", fears Marc Guillemot with a big smile. 
1/ The legend of the Route du Rhum is also the victory of Florence Arthaud in 1990... The cup she is raising has just been presented to her by the French overseas territories Minister, Louis Le Pensec. - © Route du Rhum/AFP/marcel Mochet
2/ © DR
3/ © DR
At the other end of the spectrum, a second unclassifiable boat will be racing with the primary goal of ensuring that the cavalcade reaches Pointe-à-Pitre. For his fourth participation, Gilles Buekenhout will be aboard the smallest trimaran in the race, a Fisher-Cabaret design measuring 40 feet (12.2 m) and built in New Caledonia in 2011. Her skipper had her delivered by cargo ship from the Pacific because he fell in love with this perfectly finished carbon jewel. This real "Orma 40" could give the 50-foot catamarans a hard time, even though Jess is a fickle beast, making her much less comfortable, and so very physically demanding over time. Love, passion, investment, dreams, these are words that go well together and upon which the 16 skippers in the Rhum Multi category will surely agree without reservation, even if their multihulls are far from being all the same.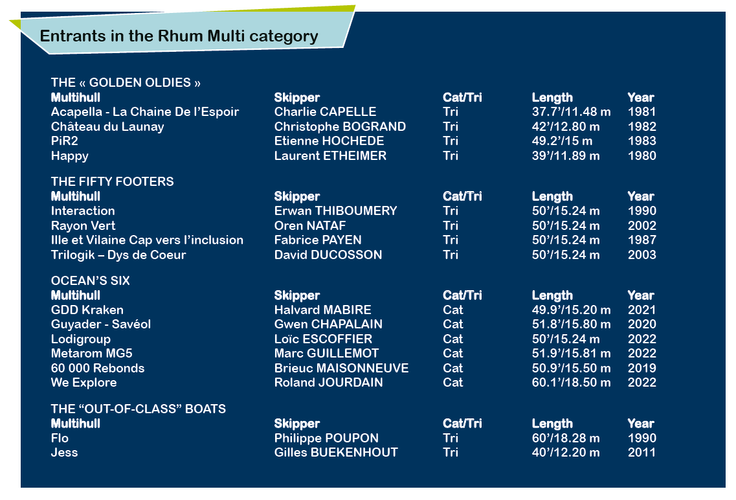 ---
The Route du Rhum in figures
Year of the first edition: 1978
Frequency: every 4 years
Number of miles: 3,543 miles from Saint-Malo, France to Pointe-à- Pitre, Guadeloupe
Record for the first edition: 23 days and 7 hours for Mike Birch aboard the trimaran Olympus Photo
Record to be beaten: 7 days and 14 hours for Francis Joyon aboard the trimaran Idec Sport in 2018
Average speed of the current record: 23.95 knots
Average abandonment rate: 30%
Longest time between the first and the last: 24 days in 2018
VPLP architects have designed all the winners since 1990 – the last 7 editions
Number of participants in the 2022 edition: 138
Number of categories: 6
Start date: November 6
What readers think
Post a comment