Offshore racing
The ARC+ aboard Outremer 51 Piment Rouge - An Atlantic crossing as if you were right there! Part 2 of 2
Cape Verde – November 19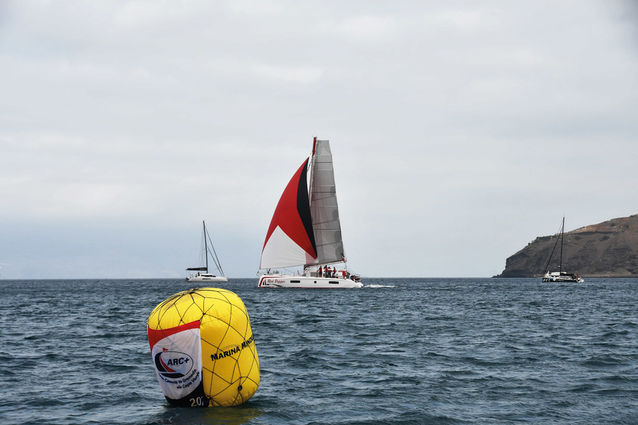 As soon as headed out from Mindelo (a great moment of emotion, the transatlantic is now beginning...), the racing starts again - we study the water. We look for transits and establish a countdown for the line. The start is planned with the monohulls and the wind is light. In our sights, the NEEL 47 Bigbird seems to be hesitant. Well focused, we decide to start under gennaker.
Off to a good start: Piment Rouge takes the lead! On our starboard side and under yellow Parasailor, the inevitable Bigbird who we'll have to beat by a good day. Ahead of us, apart from the dolphins, nothing but beautiful adventure awaits! Faced with this immense challenge, we launch big maneuvers in the galley with a new take on salad, sailing under asymmetrical spinnaker on port tack...
November 20
24 hours into the race. The conditions on this new leg are totally different. After a tight start, we broke away with 4 other boats. Monohulls Flow and Arya have dived south. We've started a more moderate descent and Bigbird is sailing dead downwind with her Parasailor. At the same longitudes, we are currently second in terms of distance to go (in a straight line). On that basis, we have just passed the 2,000 miles remaining mark. And we're in 5,000 meters of water!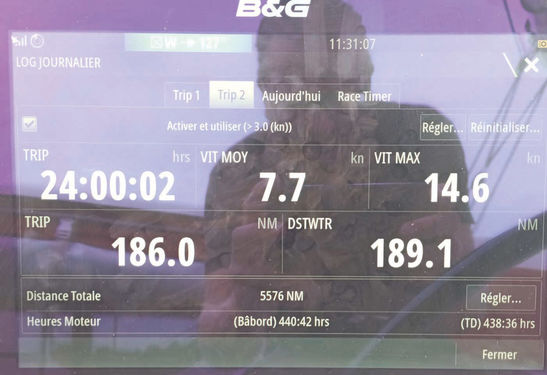 November 21
Early morning gybe: heading west! There's a big bird to catch! After a night where Bigbird has managed to reduce the gap while we were looking for wind farther the south, we're back at 8-10 kts and gradually gaining ground. The winches are electric, but we're using them manually to save electricity.
In order to keep up with the ranking as much as possible, we've downloaded weather files until we found one that matches what we've got. In parallel, we made some tables using the GPS positions given every 3 hours. A graph can then show the dates, the number of miles, the wind direction, the percentages of upwind, beam and downwind sailing, the wind speed and finally the catamaran's speed. These small calculations allowed me to really appreciate that while a degree of latitude is equal to 60 nautical miles, those of longitude vary according to the latitude.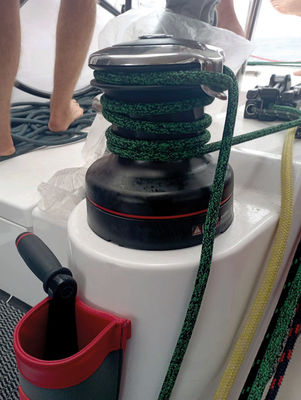 November 22
72 Hours in. We live to the rhythm of the watches, sunrise/sunset/moon and meals, but also by the rhythm of weather information, position reports and their analysis.
Currently second behind the NEEL 47, it seems that we are going faster. However, we're switching tack while she is still going straight ahead. When we are on course, we're gaining on her nicely. Then she leaves us behind when we are on the wrong tack. The weather forecast could be more favorable to us. We'll keep watching it…
November 23
We pass the 35th meridian. This means changing the clocks, and in order not to disturb the watch-keeping system (especially at night), the change is made at 1pm.
After having Bigbird within 4 miles of us last night, our change of tack let her slip away. However, ...
Subscribe
Subscribe to Multihulls World and get exclusive benefits.
Subscribe
What readers think
Post a comment