Multihull
The shipyards and ocean cruising - Multihull models, the options and the trends...
Buying a new multihull for the big trip and/or living on board all or part of the year? Now that's a good idea! Among the 300 plus models and all the different versions in the manufacturers' catalogs, it would be difficult not to find the catamaran or trimaran of your dreams, because practically everything exists. Three or five, or even six cabins, a flybridge or a simple bimini, all enclosed or open, more sporty or more comfortable - or somewhere in between, galley up or galley down, a bathroom for each cabin or shared, etc. The shipyards offer a multitude of possibilities. And as if that weren't enough, each one has its own list of options... which are endless! Of course, the right choice should be made according to your program. But you will still need to define it as precisely as possible... That way you will get a clearer idea of the choices, equipment and trends that your long journey will necessitate. That's why we decided to consult the shipyards.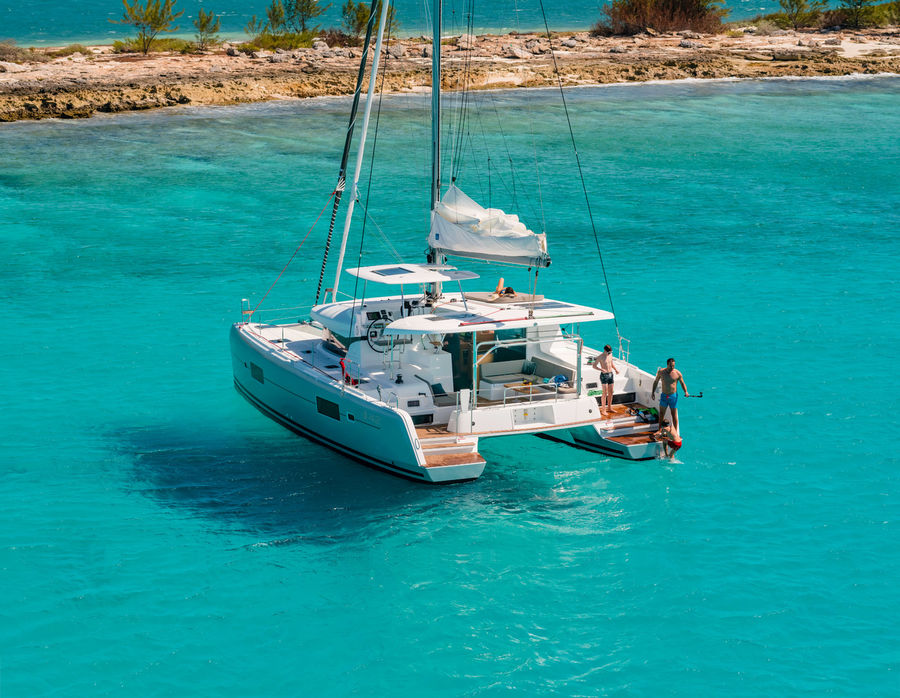 The range of cruising multihulls is mainly made up of boats between 40 and 55 feet. From 40 feet, like this Lagoon 42 here, the performance is well calibrated for a couple with children who are sailing all over the world - here in the Bimini Islands, Bahamas.
The production multihull, a strong candidate for blue water cruising
Space, almost no heeling, a panoramic view, privacy: the multi-hulled sailing platform has convinced many sailors. The increase in sales and the range of boats offered by shipyards since 1990 is spectacular. Thirty years ago, there were 250 liveaboard multihulls built per year by fifteen or so shipyards. Today, there are approximately 1,400 multihulls leaving the yards of about seventy builders, which means more than 150 models capable of taking you far, far away... Since 1980, it is estimated that 20 to 25,000 liveaboard multihulls have been launched. 75% of this fleet is made up of boats between 35 and 60 feet. The big names in the sector account for about 16,000 of these production boats, while the rest, semi-custom and one-offs, come from small artisanal manufacturers. At the end of the 1980s, barely twenty models - spread over five or six brands - represented the global offer, 80% of which was French. The Gallic leadership of the sector has hardly changed 40 years on, but the range of models offered today has completely opened up. At the time, there were two categories: racing and cruising multihulls. Today, the offer is split into a multitude of products. Some brands are resolutely focused on cruising only, such as Privilège Marine, Outremer Yachting, Catana and more recently NEEL Trimarans, Marsaudon Composites and Windelo - not to mention many smaller shipyards. The «big all-rounders» such as Lagoon, Fountaine Pajot, Leopard, Bali, Excess or Seawind have a more diverse clientele. At Fountaine Pajot, sales manager Stéven Guedeu tells us that the shipyard's customers are divided into three groups: one third is summer coastal sailors, one third is ...
Subscribe
Subscribe to Multihulls World and get exclusive benefits.
Subscribe
What readers think
Post a comment