Atlantic ocean
Alizé's (halfway) round-the-world tour - Second stage: Brazil / Tristan Da Cunha
At sea, our occupations are more varied than you might think: you eat, sleep, cook, play sports, taste, admire, read, learn the knots, put the world to rights, check the weather, put the gennaker up, take the gennaker down, gybe, then gybe again, take in a reef, make rice, and start all over again. Although not necessarily in the same order... All that makes our beautiful days more pleasant. In fact, I was very apprehensive about finding myself with my father, my man and my best mates on a catamaran. There's no tougher test than life at sea to find out whether you can or cannot get on with someone. It's make or break. On board, there's no way out - apart from one of the forepeaks or even the masthead for the most reckless among us. You have no choice but to take it on the chin. Taking it upon yourself to talk as soon as you feel the slightest tension and immediately lancing the boil is for me the key to a healthy and peaceful relationship. It's a great experience. And when it works, a lifelong magical bond is formed. However, it's not easy to get through every day: with our strong and different characters, sometimes we all need to put our egos to one side.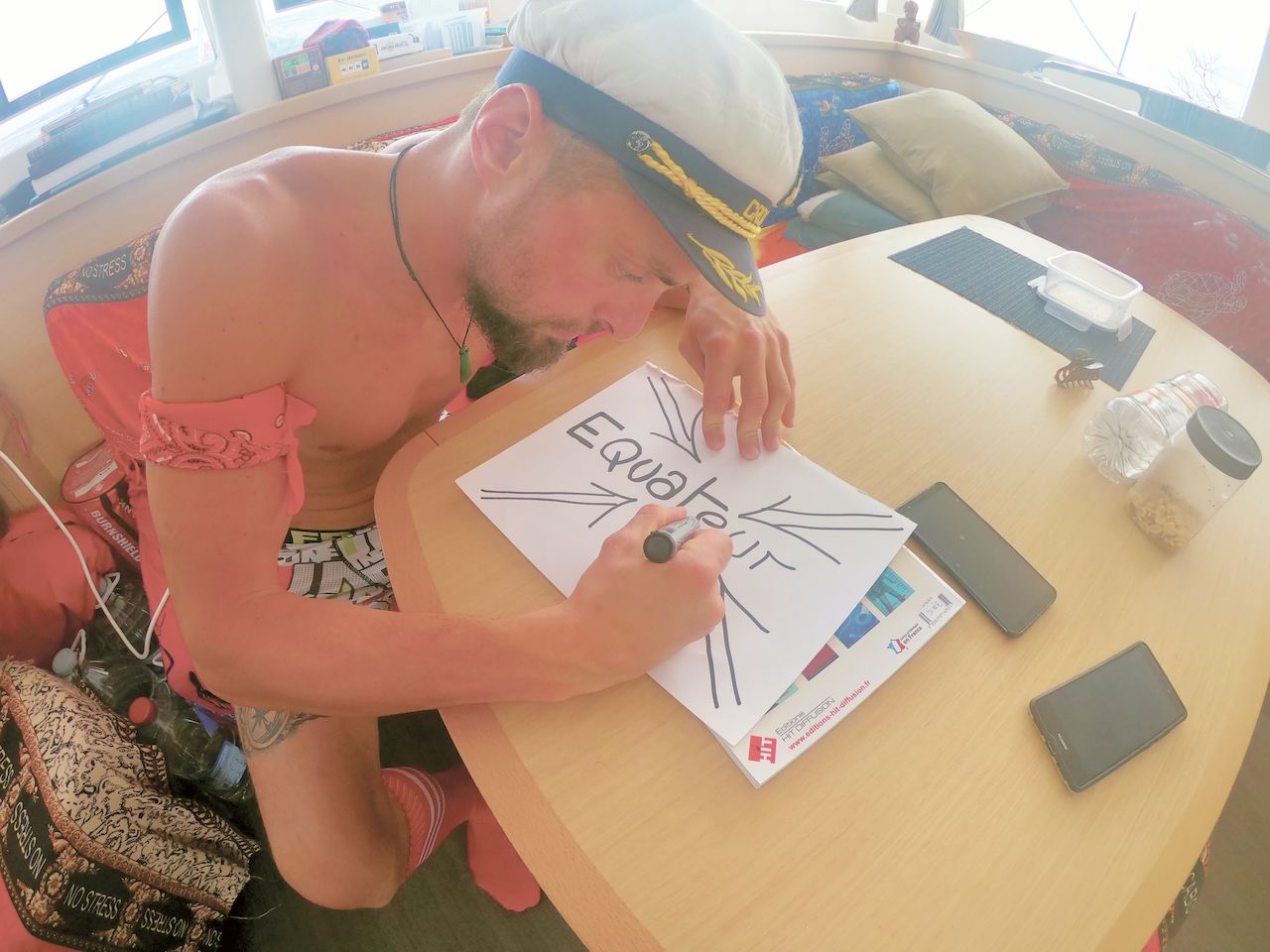 Four-star service: let's eat!
On board Maitai, we complement each other rather well; just like little ants! There's never one who does more or less than the others. And when it comes to eating, we're like a well-oiled machine. One of us cuts the zucchini while the second one catches the fish, the third one washes the salad and the last one peels the cucumber. We must all spend two hours a day cooking up some culinary delight. What's great is that the catamaran is over-equipped in terms of cooking equipment and energy, so we can enjoy ourselves and use all the tools we want. Thanks to the three solar panels with their 990 W! On the menu you will find multicolored salads, homemade bread, pancakes, all-purpose cakes, lentils, pumpkin soup, desserts, gratins, pizzas and homemade fish rillettes with the catch of the day if you don't mind! Well, we still have the advantage of having a 4-star chef on board. Thank you Lisa! We pamper our Captain! It makes up for all those moments when we scream and jump around. Or all the rubbish we talk...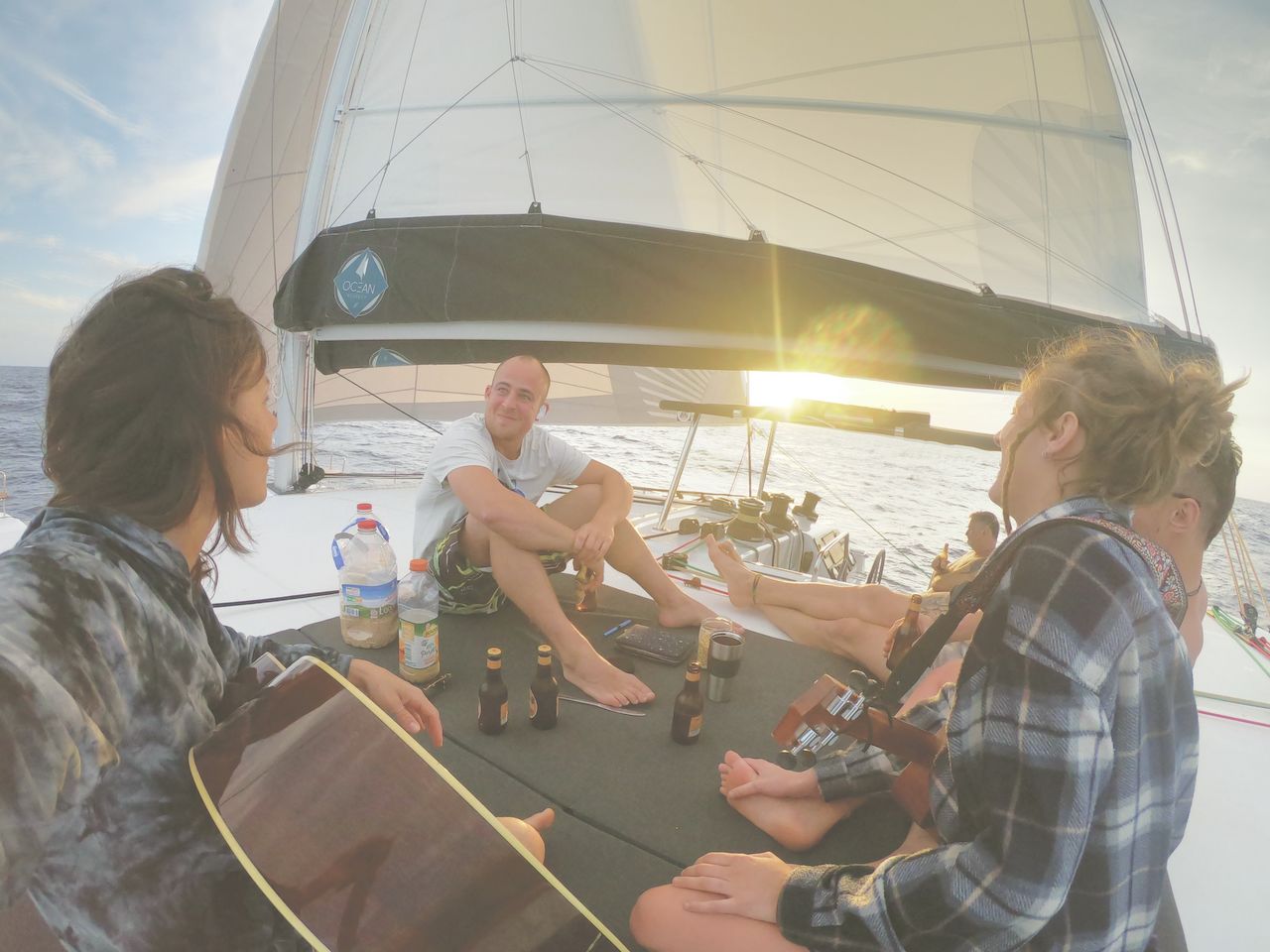 One less mattress on the bimini
For the Northern transatlantic crossing, we took the liberty of installing the mattresses on the bimini. They are custom made and are attached with snap fasteners. However, during a squall, a 40-knot gust ripped them off. We were only able to save one at the last minute, which had got caught on the solar panels. Before the mattresses flew away, this had been our evening spot. We would sit up there and stare at the water that surrounded us. Out in this great blue expanse with a beer in hand we would watch the sunset and put the world to rights. We'd talk about projects like, "What are we going to do next? Why not buy a boat and throw some crazy parties? Should we make some kind of goofy summer music video aboard ...
Subscribe
Subscribe to Multihulls World and get exclusive benefits.
Subscribe
What readers think
Post a comment