boat show
BOAT SHOWS And tomorrow?
Lagoon is launching into very up-market boats. The builder is working on a boat of over 70 feet, and there are rumors that its launch is imminent. A catamaran - whose code name is 7MA – which will be available in sailing and power versions. A boat which we should discover in the fall...of 2016! In the meantime, the company should be announcing a major new boat at the end of October, but no information about this has yet filtered through.
Ice Yachts is an Italian builder which specializes in big, up-market monohulls. The company is launching out into catamarans, and is even offering a whole range, from 33 to 62 feet, via a 52. The 62 has been sold and is being designed by Enrico Contreas; its launch is planned for the end of 2016...
Aventura Catamaran is continuing to reinterpret its range and is launching out into motor catamarans, with a 10.2 Powercat, whose launch is planned for the middle of 2016, whilst a new 39-footer should be launched at the end of the same year.
At O Yachts, they are working flat out on the new Class 5 (whose n°1 will be in the water in 2016), which was partly designed by Laurent Bourgnon. A fast ocean cruising catamaran equipped with three (3!!!) wave-piercing hulls. We're looking forward to the test! The builder will also be offering the Windbliss 110, an 11-metre boat weighing 3.5 tonnes unladen and carrying 86m² of sail. Enough to sail fast, even very fast, and for a price under 200,000 euros...
Nautitech is concentrating on its new 46-footer, as well as the motor versions of their catamarans (40 and 46), whilst Bali should have a few new boats to launch in the coming year.
At Outremer, there are rumors that a top of the range catamaran of over 70 feet is being studied. Launch planned for 2016 or 2017?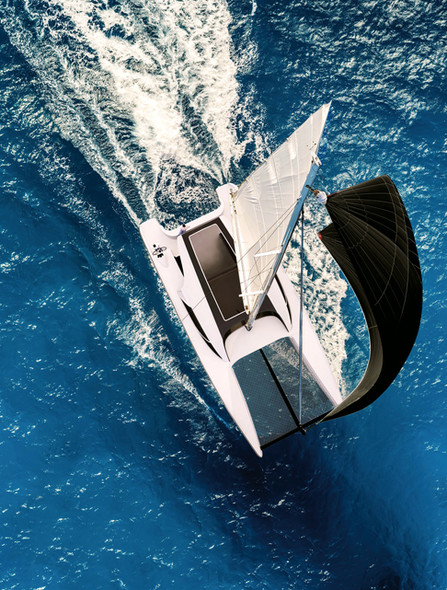 The concepts which bring hope…
The builders are all looking towards foils, and have been for a long time, well before the last America's Cup and its incredible flying AC 62s. The Catamaran 59 or the Mattia 52 are equipped with curved daggerboards, which allow the hull to be supported. But it's the new Gunboat G4 which has turned heads. Here we have a genuine 40-foot cruising boat, capable of lifting itself up above the waves on its foils. Is the foil the future of ocean cruising? Certain people think it is, and are working on it. To be continued!
The other subject of a lot of work is energy production and its storage. Today solar panels have been perfected. We have even seen a boat equipped with a solar mainsail, at the start of the last Route du Rhum. A clever concept when sailing, and one which allows the production of enough energy to supply all the equipment aboard (a racing boat!!). Self-sufficiency is the grail to be attained for everyone long-term cruising. You should only need to go into a harbor (as little as possible) to fill up with diesel and fresh food... An aim that more and more ...
Become a member
Become a Multihulls World Community Member for free and get exclusive benefits
Become a member
What readers think
Tell us your opinion