Sports cats
iFly 15 Flying singlehanded – it's easy!
Published on 19 may 2017 at 0h00
Flying multihulls are not new; Eric Tabarly succeeded with no trouble in 1976, with his Tornado hull attired with two floats. Then there was Paul Ricard, the Hydroptère…and soon kite boards, then stand-up paddle boards with foils. And of course multihulls and now practically everything which races on the water. So, is that it? Foils are within everyone's reach? Can we have a go too? On the market, in any case, there is a lot of movement in the little world of flying catamarans. And among them, one machine in particular caught our attention. This is the iFly 15. Unveiled at the fall boat shows, the machine's small size is surprising: under 5 meters for the hulls, 2.55m wide and weighing in at just 90 kg – for the production model, as our prototype proved to be appreciably heavier. At the start of the project, Gilbert Saint-Blancat (a former aeronautical engineer, prominent in the field of foils…) had to be content with designing the carbon T-shaped appendages. Finally, it was also he who designed the wave-piercing hulls. He retained quite slim sections over the whole length, to reach a good compromise between high speed and reduced pitching. The aim therefore is to fly singlehanded or as a duo, easily.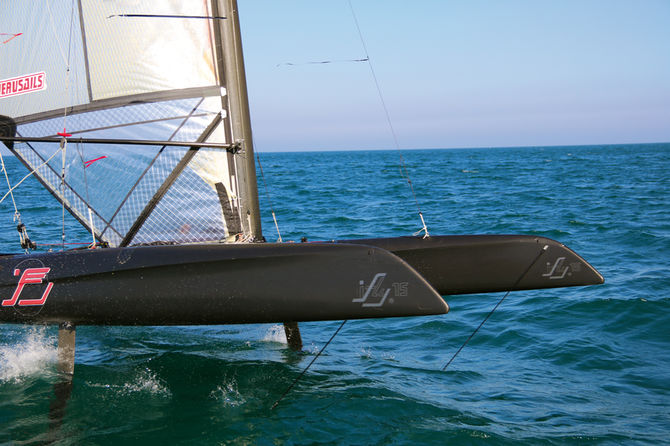 Understand that you will not have to adjust the foils. You fly, steer, trim your sail, and that's all… Apart from a basic adjustment of the four appendages (two daggerboards and two rudders) which you will learn to master as you sail more and more, the control under ...
Become a member
Become a Multihulls World Community Member for free and get exclusive benefits
Become a member
What readers think
Tell us your opinion