America's Cup and Multihulls World
During the French leg of the America's Cup World Series, a trimaran came to within a few tens of meters of the course.

This mythical trimaran was none other than the former Biscuits Cantreau 3, renamed Be Crazy 3 (to keep the same initials) by its new owner. It was designed by VPLP and built in 1988, and was above all the first racing trimaran to sail on one float. This wasn't possible at Toulon, there wasn't enough wind, but 'the ancestor' was there to see its 'descendants' do battle.

Manu, aboard the trimaran Be Crazy 3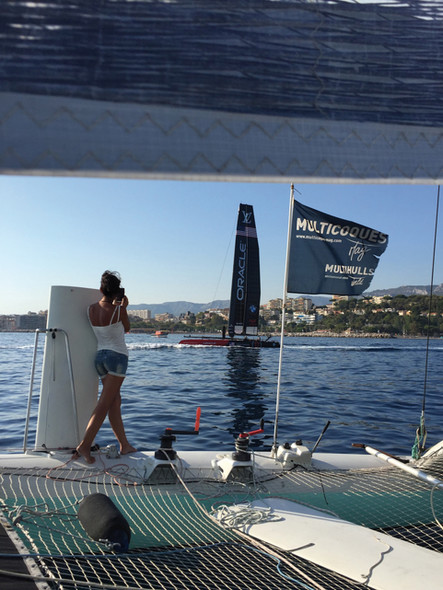 A ghostly encounter!
During our return Atlantic crossing aboard Lotus (Privilège 465), we met the Hermione in the middle of the Atlantic on 24th May.
'Like a ghost ship emerging from the morning mist', Hermione passed us under full sail. It was on the way to America, we were heading for the Azores.
We contacted them by VHF, to say hello to the crew.
Unfortunately, the photo is veiled by the mist, but the memory of that extraordinary and unexpected furtive encounter will remain in our crew's memories. For a moment, we felt that we had gone over 2 centuries back in time.
'To mark the event, the skipper (of the catamaran) served a double ration of rum to the crew!'

Jean-François aboard the catamaran Lotus
Far from the sea, but not far from our hearts
A special dedication for the readers of Multihulls World: right in the center of Australia, in probably one of the places farthest from the sea, Multihulls World is here with me! ;-)

Three cheers for multihulls and our favorite magazine!

François, a sailor without a boat, during his vacation in Australia.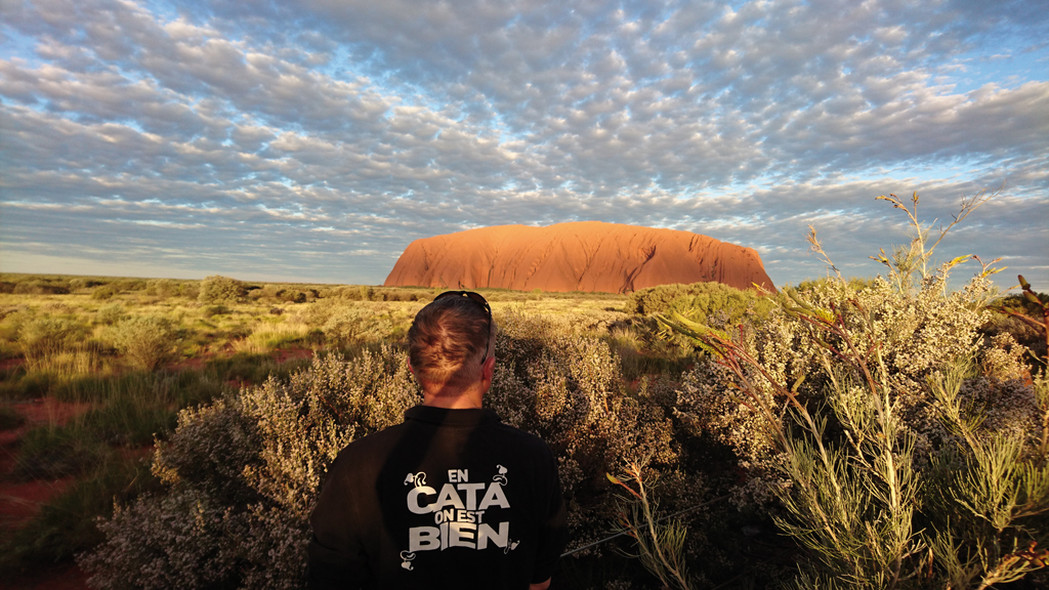 Perfect anchorage in the Garden of Eden

You have to earn this anchorage...
Since our last perfect anchorage at St Pierre, on Martinique, almost four years ago, we have looked for it, we have dreamt about it. In the tracks of Antoine and his Banana Split, a sailor looking for the last Garden of Eden will have to face the long and difficult passage from Panama which leads to the Gambier archipelago. Here, amongst the islands of this archipelago, lost on the other side of the world, he will discover the island of Taravai, where time has stopped... After having entered the lagoon via a narrow pass, he will be able to drop anchor in 16 meters, with good holding on a mud seabed. Ashore, he will be able to walk (respecting other people's property) amongst the numerous fruit trees, and discover grapefruit, mangoes, banana, lychees, lemons, passion fruit, breadfruit (uru), oranges, avocados and many others, which grow in the (almost) abandoned gardens of what was not so long ago a prosperous village. One which today is returning to nature, forming a landscape worthy of the great romantic painters...

Nadine and Marc aboard Bonabo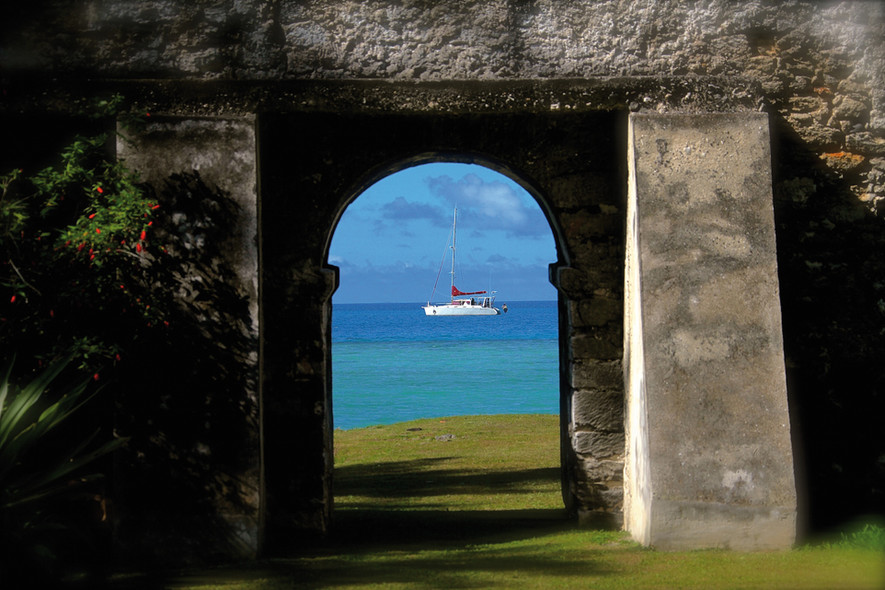 Let's share
If you too would like to share your most beautiful anchorages or memories with all the Multihulls World readers, nothing is simpler: all you have to do is send us your high definition photos, accompanied by a short text.
And to thank you, each appearance will entitle you to a one-year subscription to your favorite magazine!
Please send your photos and text to jcg@multihulls-world.com
What readers think
Post a comment