Multihull
Blue 2 Volume and excitement!
We can't say that this catamaran's career didn't get off to a good start...designed by a renowned architect, Philippe Briand, big launch with a photo shoot from a helicopter and an enormous 'Beneteau Blue 2' written on the trampoline...however: three years' production later, the big company from the Vendee region of France had only sold 48 boats. Curtain! Beneteau's first – and last for the moment – multihull wasn't the success they had expected. The builder has made up for this since then, because it is now the owner of Lagoon, the world number one in the sector. So, where was the problem? Without a doubt in the positioning of the builder, a monohull specialist. Not necessarily confident in its new boat on two hulls, Beneteau took care to fill the masts with foam, fearing a complete capsize onto the roof - we might as well say this straight away, even by doing it deliberately, it's very hard to succeed in this maneuver! Then this famous Blue 2 was quickly overtaken by a poor reputation, concerning its seakeeping qualities. Today, looking back 30 years, we can assert that this portrait reflects above all the opinion of skippers who had up until then been faithful to monohulls. Yes, a catamaran weighing hardly three tonnes will experience a few difficulties when sailing to windward in a force 7, whilst a monohull, 2 tonnes heavier, will behave much better...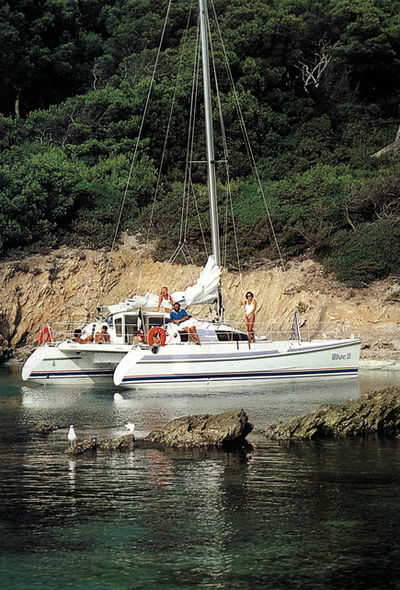 Good downwind
What the detractors of the time had forgotten, was that a Blue 2 well-canvassed in a good breeze can touch over 18 knots downwind...whilst all the monohulls from earlier have a top speed of 8. In reality, the Blue 2 has no cause to be envious of Fountaine-Pajot's Louisiane: a bit lighter and with more sail, it even offers superior potential in light airs. But it suffers from its long keels to windward – pivoting centreboards for the Fountaine-Pajot -, slams easily in the waves, because of its excessively low bridgedeck (it's noisy too!) and pitches generously, through lack of sufficient volume in the ends... So it's true, the Blue 2 isn't a boat for sailing to windward. But no cruising catamaran excels in this area... However an Atlantic crossing in the trade winds remains within its capabilities. And for the return trip? Dismantle it and pack it into a 40-foot container – it fits! Because assembling the two hulls and the nacelle using aluminum tubes was planned from the boat's design stage. As for the engines, the builder chose two little 9hp diesels, well centered and driving propeller shafts. All that remains is the design: the slim hulls resort to discreet longitudinal steps, the bows are almost vertical and the rounded roof is trying to be futuristic. Rather elegant lines which have aged well. On the other hand, we can't say the same about the original décor. Compare a revamped model with another one in its original condition – you will ...
Subscribe
Subscribe to Multihulls World and get exclusive benefits.
Subscribe
What readers think
Post a comment