From a distance, the Andaman 50 could be confused with a Lagoon 50 with her vertical saloon windows and her aft-set mast on the coachroof... but apart from this vague resemblance, the Andaman 50 stands out completely from most of her competitors. Much lighter, livelier and above all, cheaper, this new model is clearly moving the goalposts. And that's no bad thing!
Test location: Phuket, Thailand
Conditions: calm sea, wind 9 to 15 knots
---
A new light and powerful multihull has just been launched at the Catathai shipyard. This original and local yard was founded by Frenchman Hervé Le Touzé in 2004, and taken over by Gilles Reigner two years ago. Originally based in Phuket, Catathai has recently relocated further north, in the Prachuap region, not far from Koh Samui. Gilles has designed a totally new range, with elegant catamarans, ready to cruise and built to last. This range is currently based on three models - the Tropical 36, the Andaman 42 and the 50, so this is the largest of the three multihulls we're presenting here. These catamarans are a real modernization of the old Catathais, which have proven themselves on all the oceans of the world. The builder remains a small shipyard: far from the constraints of large production, they're offering, on the contrary, custommade catamarans that can be modified to suit the owner's specifications.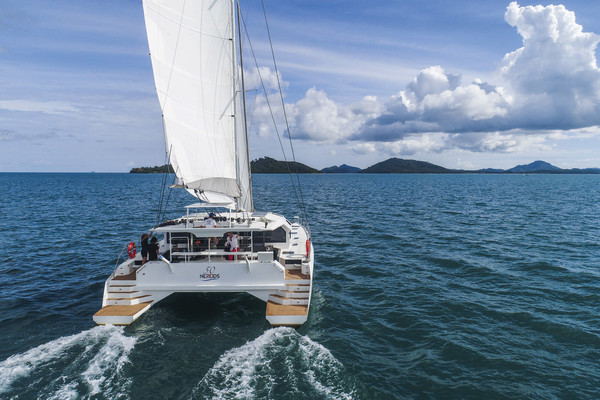 At the slightest breeze, the Andaman 50 quickly establishes a pair of wakes.
Local know-how since 2004
The shipyard has retained a "Made in France" level of know-how; since its creation, the builde...
To read in full,
Buy the boat test
Boat Test price$5.00Inc. tax
Purchase
What readers think
Post a comment
---