This new model logically fits in the range between the Aventura 34 and the 44. In this 11-meter sector there are few competitors, yet there is strong demand, judging by the manufacturer's order book: several dozen Aventura 37s have been signed. This compact catamaran, presented for the first time at the Cannes show, back in September, is pretty successful and notably well-positioned in terms of price.
Test location: Canet-en-Roussillon, South of France
Conditions: Wind - ESE 10 to 16 knots / Sea state – moderate
Aventura: already 20 years in multihulls!
Originally, Aventura Catamarans was oriented toward the production of small multihulls for coast hopping. Then came the very clever 23 and 28 (from the Camping Cat 23 of the Fauroux group and the Diabolo 28 of Jean and Jacques Fioleau). The Aventura 20 was the first catamaran entirely designed and built by the manufacturer. But it was the 33, drawn by the pencil of Martin Defline, that truly signed the house style; the adventure of modeling and industrialization continued with the 43 by the same architect. Then in 2015, production moved to a new modern factory in Menzel Bourguiba (near Bizerte) in Tunisia. In 2017, the manufacturer unveiled its new range, now signed by Lasta Design which includes the 34, the 44, the 10, the 14 (these latter two are powercats) and of course the new model for 2021: the Aventura 37. This is a catamaran built entirely in infusion in female molds with a sandwich matrix of Airex foam, glass, and polyester. The underwater hulls are also in sandwich as far down as the base of the skegs (in monolithic glass/ polyester).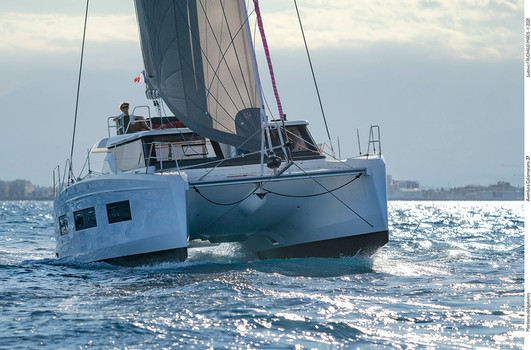 The short chop during our test didn't impact the vitality of the Aventura 37 under sail.
...
To read in full,
Buy the boat test
Boat Test price$5.00Inc. tax
Purchase
What readers think
Post a comment
---