In 2013, the Catana 59 designed by the in-house design team in association with Marc Lombard caused something of an internal revolution, as the 47 and 42 foot models were the only ones still in the range which had been drawn by Christophe Barreau.  The spinoffs from the 59 had carried on and we now have the 53 which we expect to see in the spring of 2017 along with the recently launched 62.  We had the chance to try out this big cruising catamaran in testing conditions (big wind and big seas) during a dynamic delivery of 140 miles across the Golfe du Lion in the Mediterranean.
A capable model
Despite being a descendent of the 59, the Catana 62 is a new boat.  She has absorbed all of her predecessor's experience and has evolved with significant improvements in terms of dynamic characteristics, centering of weight and the construction process itself.

Nice lines
With an extra 90cm of length, the 62 fully expresses the power of this design, with a high freeboard, very good bridgedeck clearance, a light sheer at the deck-edge and a generous sailplan.  The muscled-up appearance indicates this adventurer's vocation, and the lines which seemed audacious four years ago can now be better appreciated.  The profile shows this boat's strong personality, characterized by slightly inverted bows and the straightness of the topsides being broken by a rib which runs longitudinally, highlighting the strip where the portlights are found.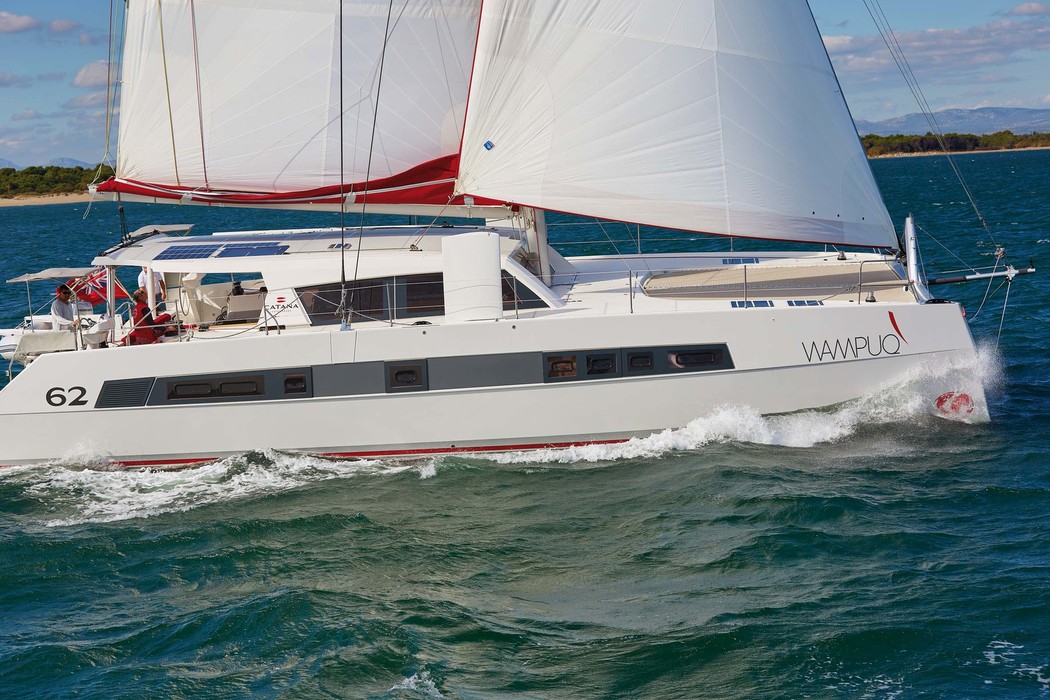 An exacting build
The production facility at Canet en Roussillon in the South of France is a vast and modern factory.  The amenable climate in the Perpignan region limits extremes of temperature and provides long periods of natural conditions favorable to composite curing.  The 62 is built in one main mold, comprising the nacel...
To read in full,
Buy the boat test
Boat Test price$5.00Inc. tax
Purchase
What readers think
Post a comment
---