This is not a regular multihull, nor is it a regular yard. The Eagle Class 53 is really one of a kind. Born from the combination of great minds and extremely high-tech systems, with automated foils and semi-rigid wing, this cutting-edge, high performance catamaran absolutely delivers its promises. 
A new star is born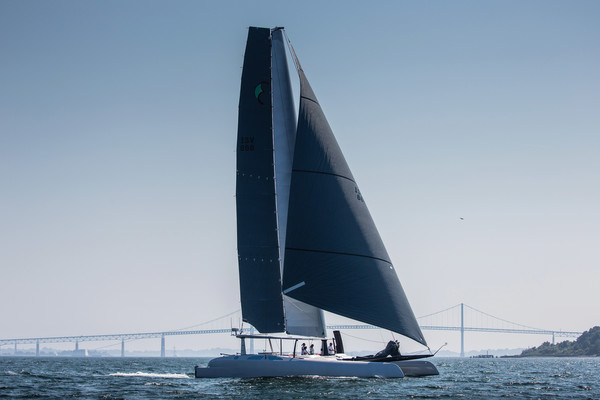 The yard, Fast Forward Composites, was established in 2015, in Bristol, Rhode Island, USA. The men behind the project are not businessmen, they are visionnaries. And this is where it gets interesting. The concept was simple and straightforward: build a catamaran that would basically be a cross between a Ferrari and a Royce Rolls – Fast, luxurious and simple, but mostly fast!
The team originates from different backgrounds but shares a tremendous amount of passion for racing and innovation. There were a few requirements in order to appeal to the right sailor; speed, of course, but also being able to welcome family and friends. If all you need is the thrill of the seeing the knots going up on the GPS, then a full-on racing boat would do the trick. However, this is not the point here. The owner needs to be able to take his entire family and enjoy a weekend aboard with enough comfort that everyone wants to come back next time.
This is where the real work began. Finding a balanced compromise between luxury and the power of this new catamaran was the ultimate goal. Tommy Gonzales, one of the brains behind the boat but also president of FFC, gave us an overview ...
To read in full,
Buy the boat test
Boat Test price$5.00Inc. tax
Purchase
What readers think
Post a comment
---