10.5m long, beautiful accommodation, all this from a builder with recognised experience: here is the Gemini 105 Mc, a cat which is as comfortable taking you on a weekend trip, as on a sabbatical break...
The Gemini 105 Mc is a sailing cottage. Like a land cottage, it is cozy, comfortable, and sound. For multihull sailors, this 10.5 m (35 ft) catamaran gives great value in a modestly sized catamaran with a modest price to match. It is very clearly a boat design aimed at the owner, one who may want a boat for weekend and vacation cruising, or for a sailing couple on that extended cruise, the dream of a life time. For either, the Gemini is a successful design with three decades of experience in its pedigree.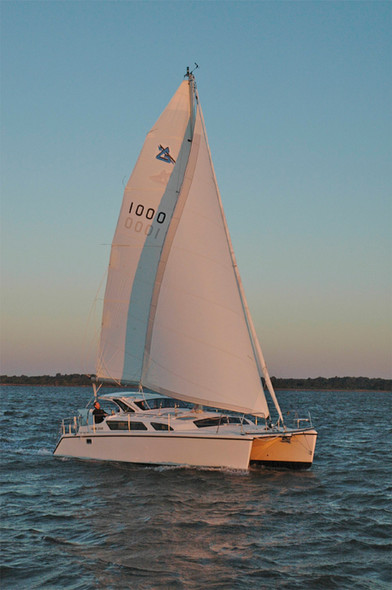 The Deck Layout
The Gemini 105 Mc has a hard deck fore and aft. The bows extend about a foot beyond the fore hard deck. A foresail traveler and other sail controls occupy the space ahead of the forestay. A fiberglass deck extension forms a bowsprit that holds the anchor and is an attachment point for the forestay that holds a furling genoa. The foredeck is stepped. The step up creates space over the master berth that spans the bridge deck, and the salon. The cockpit contributes significantly to the living area on the boat. Few other catamarans of any size do so much ...
To read in full,
Buy the boat test
Boat Test price$5.00Inc. tax
Purchase
What readers think
Post a comment
---